One set of waste water decanter centrifuge with chemical dosing unit to Middle East for waste water treatment project. The technical configuration is as below: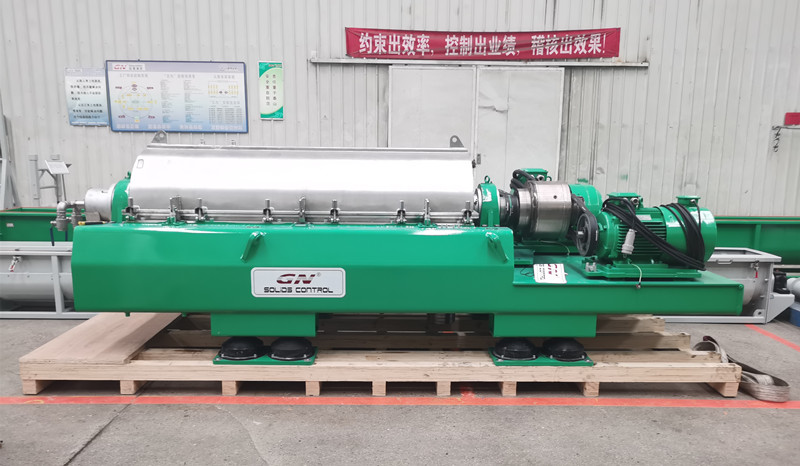 1 set of GNLW454-VFD decanter centrifuge, the centrifuge bowl diameter is 450mm, centrifuge bowl length is 1890mm, designed capacity is 400gpm, max bowl speed is 3500rpm, normal working speed is 0 ~3200rpm, max G force is 3084G, the mechanical separation cut point is 2 ~5 microns, the differential speed is 0 ~ 45 rpm, gearbox torque is 7500N.M., with gearbox ratio is 57:1, the main motor power is 55KW, back drive motor is 22KW, pump motor is 15KW. The bowl material is made of duplex stainless steel 2205 or 2304, the other bowl is made of stainless steel 316L.the bearing is SKF brand, the screw propeller is protected by tungsten carbide tiles. The solids discharge port and fluids distribution port is protected by tungsten carbide alloy.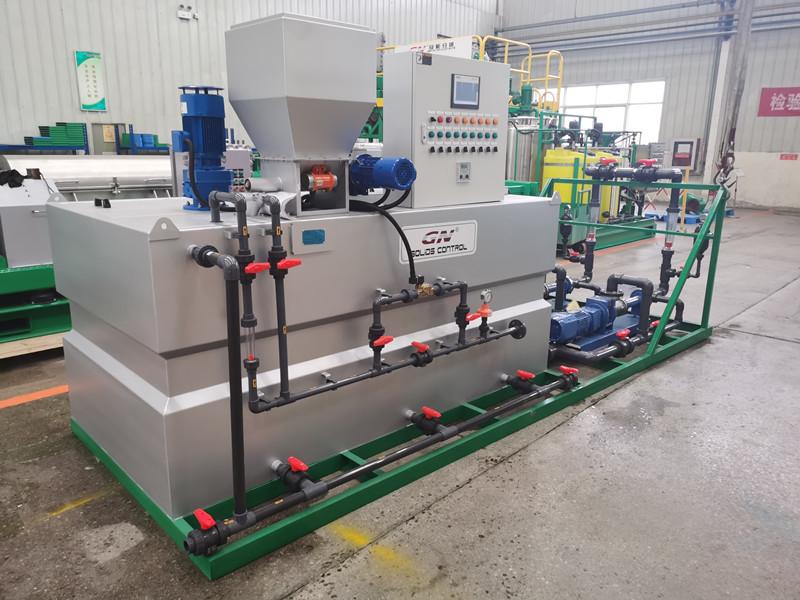 The VFD control panel drive the decanter centrifuge main motor, back drive motor and pump motor. The pump flow rate can be controlled by adjust pump motor frequency. Except for GNLW454-VFD decanter centrifuge, we also produce 18 inch bowl decanter centrifuge with shorter length as GNLW453-VFD, which can be used for drilling fluids treatment, drilling waste management, oil sludge treatment and other kind of slurry separation. The other decanter centrifuge models including 9 inch bowl centrifuge GNLW223D, GNLW224-VFD; 14 inch bowl centrifuge GNLW363-VFD, GNLW364-VFD; 22 inch bowl centrifuge GNLW553-VFD, GNLW554-VFD; 30 inch bowl centrifuge GNLW764-VFD, etc. We can also provide customized dewatering centrifuge solution for their special requirement.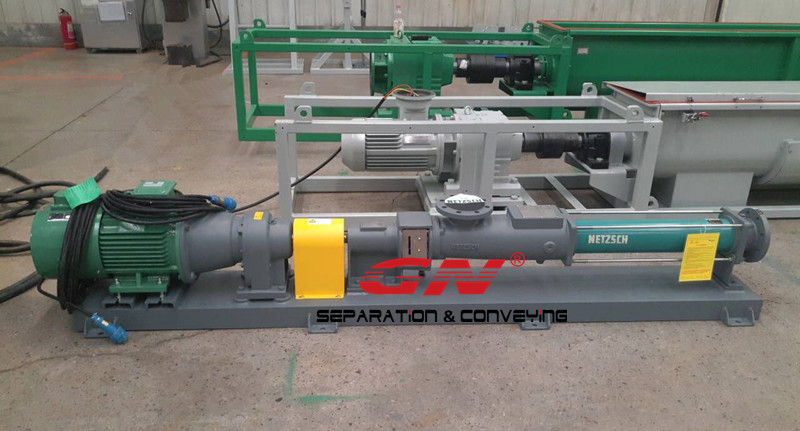 1 set of chemical dosing unit, including 3 compartment tank , hopper, agitator, level meter, auger conveyor, piping system, PLC smart control, 2 units of chemical dosing pump, pressure gauge, valves, skid, etc.
1 set of screw pump as centrifuge feeding pump