In recent weeks, GN Solids Control just finished its production for a new project in the tunnel bored drilling industry, the order includes two large bowl decanter centrifuge and two containerized chemical dosing system. Successfully delivered this system to the customer representing GN's great manufacturing capability and strong delivery capability.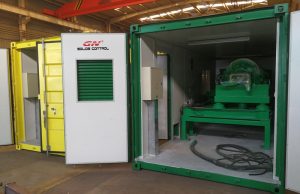 GN Solids Control is a integrated company specialized in manufacturing the solid control equipment and spare parts, including but not limited to shale shaker, decanter centrifuge, cutting dryer, etc. This two new large bowl decanter centrifuge have the bowl size of 22 inches, and can process large volume of drilling mud and make it meeting the standard of disposal and recycle. This large bowl decanter centrifuge inherited the same great features from its predecessor 363 which is a very popular, mature and reliable product during all GN's product line. The bowl material is made of 2205 stainless steel which is very tough and reliable, the screw conveyor surface is covered with tungsten carbide tiles which is easy for replacement and very easy for maintenance. The solid and liquid discharge port is also made with the tungsten carbide inserts, which has very good longevity. The bearing is provided by world famous brand SKF. All in all, this is a very cost effective but very good quality product. The containerized chemical dosing system is a great value and supplement to the decanter centrifuge, if the customer want to separate smaller solids, as the decanter centrifuge can only separate the solid size from 5-20 microns, when using the chemical dosing system, the solid separation size could reach up to almost zero. GN believe the customer will like it after using it.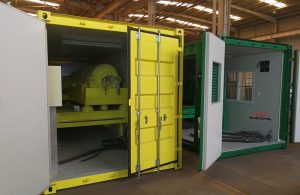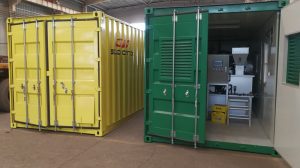 GN welcomes you to log on to our website www.gnsolidsamerica.com and browse GN's full product line, and if you want to get more detailed info, you can send your inquiries to lucas@gnsolidscontrol.com.