GN solids control showed our equipments at Petrotech 2019 in India from Feb. 10th to Feb. 12th. The equipments we showed at the oil show in India including: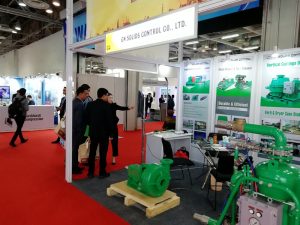 1) Sludge vacuum pump: it can be used to transfer drilling cuttings, powder cement, waste sludge, oil sludge, drilling fluids, industry waste water, mining tailings, dredging slurry, sand, even for animal waste, etc. Especially for high viscosity sticky oil sludge from refinery crude oil tank bottom, the vacuum pump is an ideal equipments to transfer the oil sludge, but the flow rate will be different with the normal flow rate. Depends on the different conditions oil sludge, we will choose the proper model for our clients according to the question list they filled.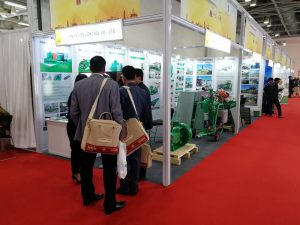 As a 100% air operation pump, the vacuum pump do not need any electricity to operation, this is pretty convenient in some jobsites when electricity is limited, the user can use the air compressor in the jobsite to provide air for the vacuum pump, they can choose automatic operation or manually operation for their requirement.
2) Centrifugal pump: the complete centrifugal pump is consist of pump head, coupler for motor end, coupler for pump end, electric motor, control panel, skid and other accessories. The pump head is the most important components for the centrifugal pump, our pump head and all the parts are interchangeable with world famous brand centrifugal pump.
3) Shale shaker: the 2 panel shale shaker is the smallest model we have now, we have 2 panel, 3 panel and 4 panel single deck shale shaker for option, also we have dual deck shale shaker for special purpose.