One set of solids control system and one set of drilling waste management system are ready for delivery to our client. The technical specification is as below:
1) Solids Control system, including one unit of GNZS703F-SHBF shale shaker, one unit of GNZJ703F-12NF desilter, one unit of 100YZ160-38A submersible slurry pump, one unit of GN50YZ40-10B submersible slurry pump as decanter centrifuge feeding pump, one unit of GNLW452D-GP decanter centrifuge, 2 units of mud tanks with mud agitator, mixing hopper, mixing pump and tank accessories, one set of 36ft screw conveyor GNSC12B-36 to collect drilling waste discharged from shale shaker , desilter, decanter centrifuge.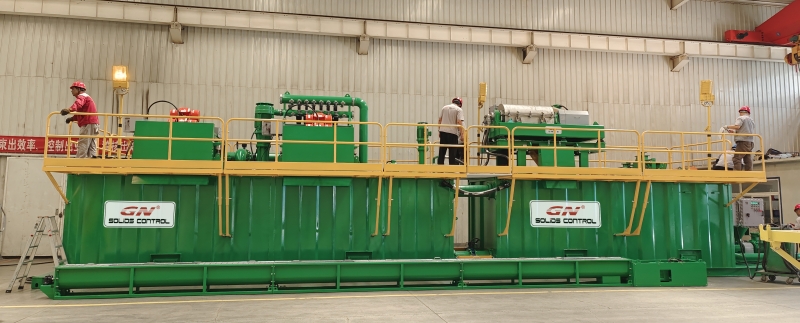 2) Drilling waste management system, including GNCD930E-GP vertical cuttings dryer, GNLW363C-VFD decanter centrifuge, GN50YZ40-10A submersible slurry pump, mud agitator and mud tank with electric control system.
The solids control system and drilling waste management system work together as a closed loop zero discharge system, the user do not need to make extra waste pit to stock the drilling waste, according to environmental protection laws, it is forbidden to dig waste pit at drilling site.


The working principal is as below:
The drilling mud flow to shale shaker for primary solids separation, the treated mud dropped into the shaker tank first compartment, the desilter feeding pump (submersible slurry pump) transfer the mud to desilter cone for fine solids separation and flow to desilter compartment, the decanter centrifuge feeding pump ( submersible slurry pump) feed to decanter centrifuge for ultra fine solids separation and the clean fluids drop into the centrifuge tank 1st compartment, the clean fluids can be recycled directly or adding chemicals to prepare for new drilling fluids with mixing hopper and mixing pump. The drilling cuttings are collected by screw conveyor and transfer to vertical cuttings dryer system.
For more information of solids control system and drilling waste management system, pls contact GN solids control.