The 12th international oil and gas conference and exhibition-PETROTECH 2016 will be held in New Delhi, India from December 05 to 07, 2016. PETROTECH is a biennial event and platform for all the expertise in the oil and gas industry to gather together to exchange ideas, share knowledge and experience. This event has been held for two decades and it's attracting more and more people to attend. And the topics it covers is from upstream to downstream, from petroleum trading to LNG production, almost everything in the oil and gas industry.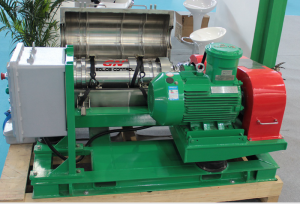 GN Solids Control will exhibit in the show as the leading manufacturer for the
solid control
equipment and waste management system. The booth number is E13A with the area of  15 square meters. GN will show its mini
decanter centrifuge
-223 and some high quality
shale shaker
screens at the show. GN's 223 decanter centrifuge is specially designed for mining or piling industry.  There are many great features for the equipment: the bowl material is made of duplex stainless steel 2205. The discharge port is protected by special carbide tungsten tiles which is with longer life and needed for less maintenance. The adjustable effluent port makes the pond depth change easier and more convenient. The pneumatic controlled spring will make the opening of the cover more easily and safely. The bearings are made by the world famous SKF company. The conveyor surface is made from Tungsten carbide tiles which is more endurable and easy for maintenance. This is really an eye catching product and GN believes that it will attract more and more attention from the show. Now GN's second facility has been into production and increase the manufacturing capability a lot for
shaker screens
, especially for the composite framed screens, such as the replacement screens for MONGOOSE, KING COBRA, VENOM and so on. The composite frame represents the future trend of the industry due to its light and more endurable.

Welcome to India to attend the PETROTECH 2016 in December and welcome to GN's booth. We believe you will get a different feeling for the solid control equipment. And  Welcome to visit www.gnsolidsamerica.com and please send your inquiries to sales@gnsolidscontrol.com