Comparably, a 3000bbl solids control system is not a small size one, it could be used for Chinese model oil and gas rig ZJ70, which means, the well depth could reach 7000 meters. Mostly, one 3000bbl solids control system is combined by 7 mud tanks, with a total storage capacity of 3000bbl.
Among the 7 tanks, there are trip tank, treating tank for shale shakers and mud cleaner ( also vacuum degasser), middle speed decanter centrifuge and high speed decanter centrifuge. the above mentioned is treating steps for the system. After that, it is mixing systems, which is mixing tank. On the mixing step, in the mixing tank, new chemicals are added into the drilling mud.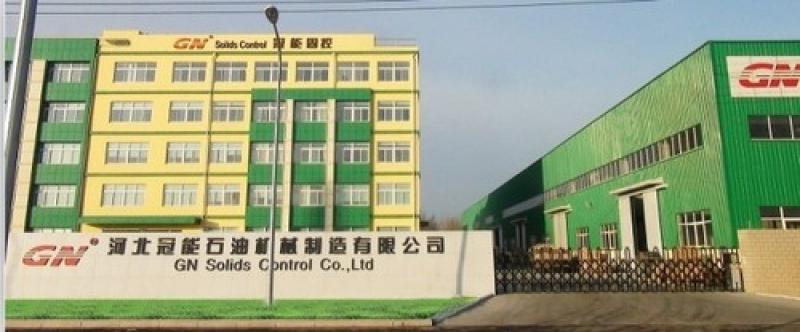 In standard design of GN 3000bbl solids control system, a mixing tank is designed of around 450bbl storage capacity. For this 450bbl mixing tank, there are below equipments needed:
1, mud agitators, GNJBQ150D-D, 3 ea. Mud agitators here are playing 2 roles, one is to keep the  mud from settling, the other is to help mixing work.
2. mud guns, GNNJQ80-3G, 3 ea. In a solids control system, mud gun pipeline reaches every tank, so mud gun is used not only to help agitators to stir the drilling mud at the corner, but also to transfer the drilling mud from one tank to another.
3. mixing hoppers, GNSLS45, 2 ea. Of course, in mixing tank, there must be mixing hoppers. The 2 mixing hoppers are paralleled to be installed, it means, either centrifugal pump could feed either mixing hopper by means of open/shut the valves.
4, centrifugal pumps for feeding the mixing hoppers, GNSB8*6-12J centrifugal pumps for feeding the hopper, as mentioned, they are paralleled installed for the hoppers.
There are two ways for positioning the mixing hoppers and centrifugal pumps depending on the customers' requests. One way is to install hoppers on top of tank, while install the centrifugal pumps on tank skid, or to install both hoppers and centrifugal pumps on tank skid. Each choice has its own advantage and disadvantage.
May you have more interest about mixing tanks or other tanks, welcome to contact us freely.