CBM ( Coal Bed Methane) is very useful resource for people's daily life. In order to get it out from the underground, it will also need the drilling process. During drilling, it will also need the solid control and mud recycling. GN now can provide the full mud recycling system for the CBM application for the customers in the coal rich area, such as the Shanxi province in China, or the Michigan or Ohio in the US. The scale and size will not be as big as the one used in the oil and gas drilling, but the function and equipment used on the system are similar.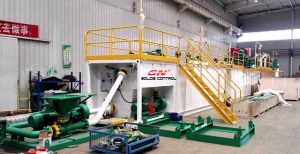 The mud recycling system is mainly composed of the following equipment: 1, shale shaker which is 3 panel, linear motion for the coarse liquid and solid separation. The G force could reach up to 7.5 G at the flow rate of 500GPM. And now GN adopts the latest composite frame screens which will be more endurable, lighter and have more non-blank area. It's more and more popular with the customers and the price stays almost the same as the old steel framed screens. 2, mud cleaner which is usually equipment with 1 desander, 8 desilter and a lower deck shaker. The mud will be separated further in the hydrocyclones and dries in the lower deck shaker screens. 3, 18 inch 452GNLW decanter centrifuge which could be configured both as the fixed speed or VFD variable speed. The surface of the screw and discharge port are protected by tough tungsten carbide tiles, and the bearings are made by world famous SKF. This product has been purchased by many big companies, such as BAKER HUGHES. 4, There mud tanks which will be used for mud mixing, recycling and intermediate transmission. All the system is equipped with necessary centrifugal pump and mixing hoppers.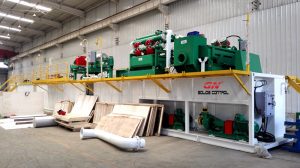 Welcome to visit our website www.gnsolidsamerica.com and get more information, send your inquiries to USA@gnsolidscontrol.com . We believe GN could be your one stop shop for the solid control system and help your business to achieve great success.