Recently one batch of ViST Vacuum Triple Shale Shaker are ready for shipment to China drilling company. The Features of the ViST vacuum triple shale shaker are as below:
1. The 3 units of ViST vacuum shale shaker are installed on the same skid, to meet the requirement of quick installation and transportation.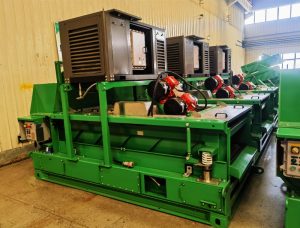 2. The ViST vacuum shale shaker can select configuration of 1 set ViST for 1 shale shaker or 1 set ViST for 3 shale shakers.
3. The single shale shaker model is GNZS595J with Splash prevention system to avoid drilling waste splashing on the shale shaker.
4. The 3 single shale shakers are installed on one skid with possum belly, the control panel of the shale shaker are installed on both sides of the possum belly for convenient operation.
GNZJ595H-SHBJ shale shaker is a linear motion shale shaker, normal treating capacity for drilling fluids is 140m3/h, 2ea of explosion proof vibration motors drives the shale shaker and produce vibration G force up to 7.5G, with 5pcs of shaker screen 585x1165mm, the total screen area is 3.4m2, the mechanical deck angle adjustment range while working is -1º~+5º, the deck angle can be adjusted synchronously on both sides. We have different explosion proof standards for option: CNEX, ATEX or IEC EX for option. The shaker screens replacement is very convenient, by ratchet wrench for quick shaker screen disassemble and assemble. The side fluids outlet and bottom fluids outlet is optional , it can be used in different sites.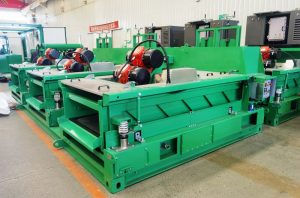 The ViST vacuum screen can be applied for OBM, SOBM, WBM, the recovery efficiency is up to 30% ~50%, it can be used for mud temperature -15 º to +85 º. It is air operated, no need electricity required.
For more information of ViST vacuum screen, pls consult with GN Solids Control.