Recently one batch of separation equipments for dredging slurry separation plant to North America, the equipments list including: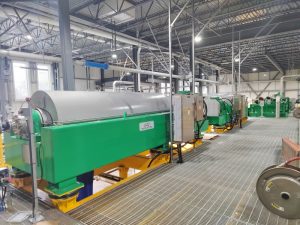 GNLW764A big bowl decanter centrifuge, 2 units, the centrifuge bowl diameter is 30inch, and bowl length is 131 inch, the max speed is 2650rpm, the max G force is 3000G, the max treating capacity is 285m3/h, the typical capacity is 225m3/h, the dewatering capacity is 50m3/h, the main motor is 160KW, and back drive motor is 90KW.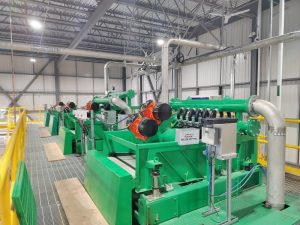 GNZS706F double deck shale shaker, 2 units, top layer with 3pcs screen, 750x900mm; bottom layer with 3pcs screens, 700x1250mm, the total screen area is 4.63m2. 2ea vibration motor 1.94KW drived the double deck shale shaker and produce up to 7.3G vibration force. The vibeation mode is linear motion , the reference treating capacity for drilling fluids is 140m3/h ( 616gpm). The deck angle can be adjusted from -1° to +5°, we can provide CNEX or ATEX or IECEX explosion proof standard for option. The flowrate mentioned is for reference only. The double deck shale shaker can treat the slurry better compared with single deck shale shaker, the slurry will drop into the top layer screen firstly to separate coarse solids, then the bottom layer screen with fine mesh will separate the fine solids, the treated fluids drop into the mud tank. The centrifugal pump feed the slurry to desander, the separation cut point is 45 microns.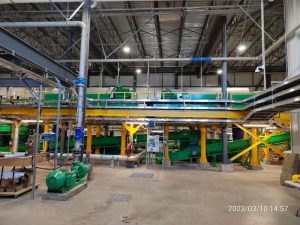 GNZS703F-2S desander, 2 units
GNZS703F-12N desilter, 2 units, the fluids treated by desander dropped into the mud tank and the desilter centrifugal pump feed the fluids to desilter , the separation cut point is 15 microns.
Screw conveyor, 12 sets, it is used to transfer the dredging slurry and transfer the discharged solids to cuttings box.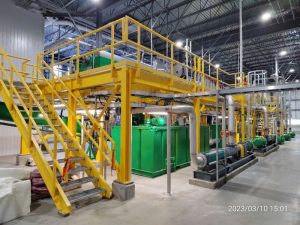 Mud tank and feeding pumps
For more information of dredging slurry separation equipments, pls contact with GN separation.