Recently GN just sold two decanter centrifuges to a US customer for their project in Canada. The two decanter centrifuges are 22 inches and 14 inches. This is a new project for the soil remediation, which is a new area for the decanter centrifuge application.
As an advanced decanter centrifuge manufacturer, GN's decanter centrifuges have been sold to more than 60 countries, and after being tested and applied in the job sites, GN's product performance proved to be reliable and consistent. Now GN can manufacture not only the single solid control equipment, but also the whole cleaning system, such as the shale shaker, decanter centrifuge, mud cleaner, cutting dryer, and various kinds of pumps. All the equipment can work together and combined as an integral part to clean the contaminated soil and water, and make it reusable and environmental friendly. The 22 inch bowl size decanter centrifuge has medium speed to do the coarse separation, the 14 inch bowl size decanter has fast speed to do the finer separation. You can also add a flocculate system to separate even finer solids, the size almost close to zero.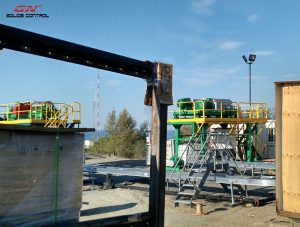 Now all the decanter centrifuges have been upgraded, the bowl material is 2205 stainless steel which is very tough and needs little maintenance. The solid and liquid discharge port material is tungsten carbide, which is tough. The screw conveyor surface is covered by the tungsten carbide tiles, which is replaceable when it is damaged. The bearing is adopted the world famous brand SKF and all the electrical control is also using the world famous ABB or SIMENS, according to customer's needs and requirement. Now the Canadian customer is very satisfied with the decanter centrifuges and they are using it to do the soil remediation work and water cleaning.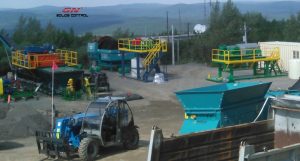 GN welcome you to come to the job site to take a look at the equipment running, you can also log on to www.gnsolidsamerica.com or you can send your inquiries to lucas@gnsolidscontrol.com.