Chemically Enhanced Centrifugation, flocculation, is to enhance the remove of fine solids in WBM by a decanter centrifuge.GN solids control produce different size decanter centrifuge, including 9 inch, 14 inch, 18 inch, 22 inch, 30 inch diameter bowl, also different bowl length to meet different treatment requirement. We also provide chemical dosing unit together with decanter centrifuge working, especially for water based mud drilling waste treatment which is discharged from high G drying shaker, the chemical enhanced centrifugation can improve the centrifuge working efficiency and get better treatment result.
The benefits to use chemical enhanced centrifugation process is as below: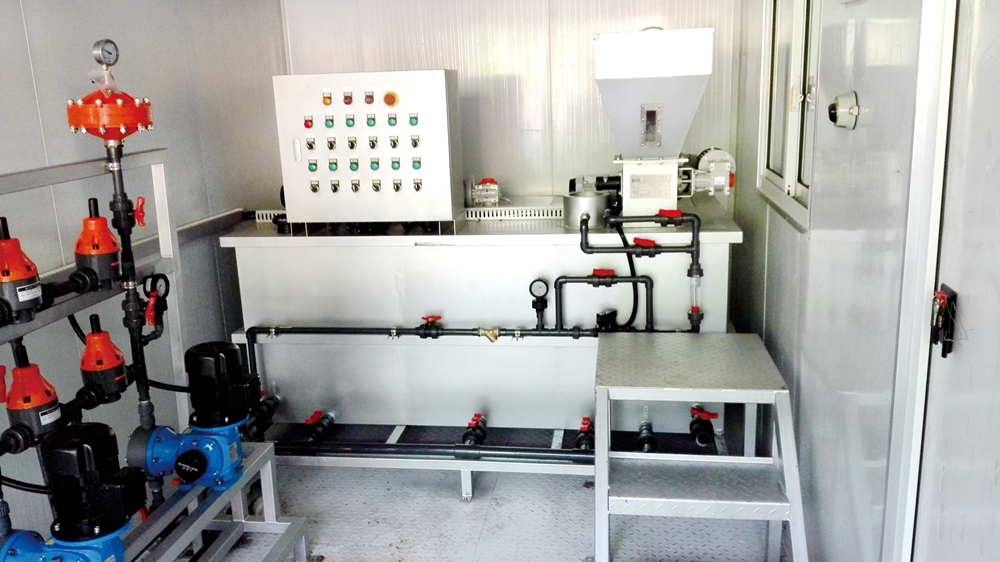 Reduce water consumption and increase recycling of recycled water
Reduce the volume of the mud pit, if there is a closed-loop system, the mud pit is not required
Reduced environmental impact
Reduce the consumption of chemicals
The chemical enhanced centrifugation working process is as below:
The chemical enhanced centrifugation enables fine particles to be coagulated, flocculated and removed more easily. By adding a coagulant to neutralize the negative charge of the fine particles, the colloidal particles follow the flocculant to bridge the small flocs into larger clumps, which are then removed by a centrifuge.GN can provide customized chemical dosing unit according to different decanter centrifuge model.
GNLW363C-VFD decanter centrifuge is the most popular model decanter centrifuge for chemical enhanced centrifugation treatment. The bowl diameter is 14 inch the bowl length is 50 inch, the ratio is 3.5, we also have model GNLW364 with bowl length 59.5 inch, with ratio 4.25, the water can be treated more clear with longer straight cone. The max speed is 3900rpm, the typical speed is 3200rpm, the max G force is 3063G, and typical G force is 2062G. With chemical enhanced centrifugation, the separation cut point can reach to 1 microns, the discharged clear water can be reused or send to waste water treatment facility.