CIPPE which is short for CHINA INTERNATIONAL PETROLEUM AND PETROCHEMICAL TECHNOLOGY AND EQUIPMENT EXHIBITION was held from March 20 to 22 in Beijing. During the 3 day show there were over 90,000 sqm exhibition space, over 80,000 visitors and over 1800 exhibitors from over 65 countries and regions presented in this show.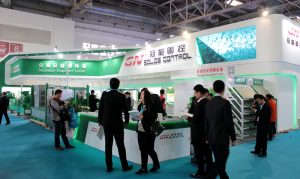 GN Solids Control as the one stop shop for the solids control equipment and mud recycling system manufacturer and provider consistently joined the show and demonstrated its latest technology and products.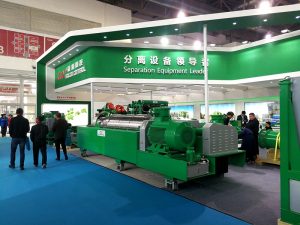 During the show, GN presented its new composite frame shake screes including its own OEM screens and also the replacement screens for some world famous brands, such as DERRICK, MI SWACO and NOV BRANDT, GN's No.2 factory is specially used for manufacturing the screens and it can manufacture over 5000 pieces per month. The new screens are with many great features, such as great longevity, lighter, larger non blank area, and so on. GN also showed its new full hydraulic driven decanter centrifuge. The brand new full hydraulic driven decanter centrifuge is a great complement to its current product line, now GN already owns the mechanical and VFD decanter centrifuge, the new full hydraulic driven decanter centrifuge will greatly improve GN's image among its customers and could be a better offer and meet more customer's requirements. Like its predecessors, the new full hydraulic driven decanter centrifuge inherited the great features, such as the bowl material is made from duplex stainless steel 2205 by centrifugal casting, and the discharge port for solids is made from tough ceramics or tungsten carbide tiles, the effluent port could be adjustable to meet different pond depth requirement, the conveyor surface is made of tungsten carbide tiles which has better longevity and easy to maintain and service. The bearings is also from the world famous brand SKF. The full hydraulic drive system is provided by a famous Switzerland company VISCOTHERM. It also has small footprint and light weight about 3400 kgs. The max. torque could reach 4163 N.M. GN believe when this FHD decanter centrifuge comes into market, it must attract much attention and bring more business and orders. And finally it will help GN's customers to get success and be more cost effective and efficient. Except for that, GN also showed its newly upgraded shale shaker, centrifugal degasser, they all attracted a lot of attention on the show.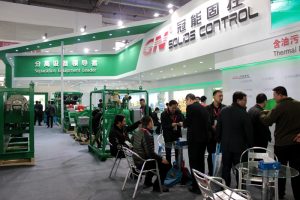 Welcome to visit www.gnsolidsamerica.com and please send your inquiries to lucas@gnsolidscontrol.com . GN will try its best to help your business achieve more success.