GN Solids Control is the world famous solid control equipment and mud recycling system manufacturer, as its US subsidiary and North American headquarter, recently it released its new largest bowl decanter centrifuge-764 specially designed for the mud recycling system for large tunnel boring project.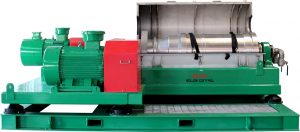 The GNLW764A Decanter Centrifuge is the first generation of the large bowl for big volume of slurry separation. The bowl diameter is 30 inch and the ratio of the bowl length and diameter is up to 4.4. This will make the centrifuge to reach optimum separation and discharge cleaner liquid. And the large bowl size can guarantee the large processing capacity. The G force is up to 3000G when the bowl speed is at 2650 RPM. The torque of the gear box can be 25000N.M which will be used for heavy slurry separation. The bowl material is made from duplex stainless steel 2304 from centrifugal casting. The screw conveyor is made of stainless steel 304. The screw surface is protected by tungsten carbide tiles. And the solids discharge port is made from tungsten carbide inserts. The bearing is used with world famous SKF.  All the features of stainless steel, tungsten carbide tiles and bearing will make this equipment very reliable and need less maintenance during operation. The variable frequency drive is from ABB or SIEMENS. All the control system is operated by PLC Smart Control System with HMI visible operation interface. All the bearing temperature sensor, vibration sensor and over load protection are controlled by PLC automatically to protect the centrifuge from being damaged and make the centrifuge easy to operate. This centrifuge can also be working with the polymer dosing system to separate finer solids that are hardly separated by mechanical force. By working with the dosing system, the centrifuge can separate the find solid size almost to zero microns.


If you are interested in this new largest centrifuge, welcome to visit our website www.gnsolidsamerica.com and get more information, please send your inquiries to USA@gnsolidscontrol.com .