This week GN solids control shipped 2 sets of HDD mud recycling & mixing system to India client for their HDD projects. This is not the first order from the HDD contractor, they bought the 350gpm mud recycling system and 500 gpm mud recycling system several years ago for their Vermeer rig. The technical configuration is as below: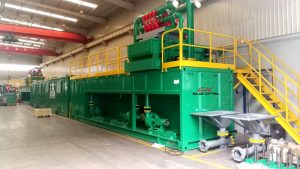 One mud tank 9000x2300x2150mm which is customized design size to meet their storage capacity requirement. For compact design and better mud cleaning performance, we installed the double deck shale shaker with desilter cones to meet the client's capacity requirement. A centrifugal pump as feeding pump of the desilter cone, one centrifugal pump as mixing pump for the venturi hopper. The mud agitator and mud gun installed on the mud tank for agitating the drilling mud and prevent the solids from silting. An extra submersible slurry pump is equipped as the feeding pump of the mud recycling system from the mud pit.
Features of the 2 sets of mud recycling system:
1) Compact design with the biggest storage capacity as per the client's requirement
2) Container loading size for convenient transportation and cheaper sea freight cost
3) Mechanical seal centrifugal pump, the impeller and pump casing material is made from hard ductile iron alloy, increased abrasion resistant capability.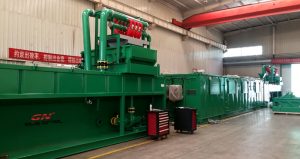 4) Double deck shale shaker with desilter cone for 2 phase cleaning and increase the reating capacity.
5) Pretensioned shaker screens with composite material frame for longer working life and better separation performance.
6) Explosion proof electric control system for better rain proof, sun proof and dust proof.