This week GN solids control shipped one batch of solids control equipments to Russia, the client inspect the equipments in our factory in Beijing before dispatch to Russia. We welcome all the clients to visit our factory before order and after order before delivery.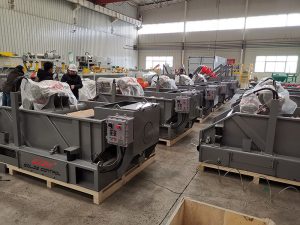 The solids control equipments they ordered including linear motion shale shaker, mud cleaner, decanter centrifuge, centrifugal degasser, this is their repeat orders since 2017, they keep repeating orders every month during the past years, and make mud tanks system locally. Sometimes they replace the old equipments from their existing rig solids control system.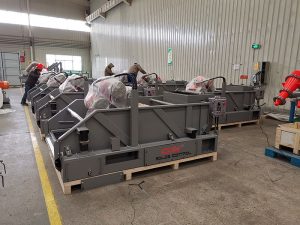 The shale shaker, mud cleaner, vacuum degasser/ centrifugal degasser, decanter centrifuge are our main products and the most popular products, we have many options for decanter centrifuges with different size from 9 inch to 30inch for different applications, for each bowl size, we have 2 models with different ratio. For 9 inch bowl size centrifuge, we have GNLW224D and GNLW224E-VFD, for 14 inch bowl centrifuge, we have GNLW363C, GNLW363-VFD, GNLW364C-VFD, for 18 inch bowl centrifuge, we have GNLW452, GNLW453C-VFD and GNLW454D-VFD , for 22 inch bowl centrifuge, we have GNLW553C-VFD, GNLW554D-VFD for option, for 30 inch bowl centrifuge, this is the max centrifuge we produced at present, we have GNLW764D-VFD centrifuge, this is mainly for tunneling project which need a huge volume of mud.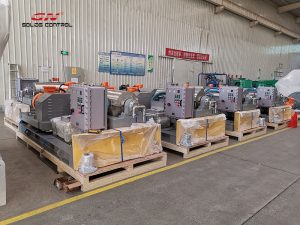 The linear motion shale shaker, we have 2 panels, 3 panels, 4 panels and double deck shale shaker for option, all the shaker screens are produced by our own workshop with our brand GN solids control, the composite material shaker screens produced by GN has been approval by many clients in the world for their oil & gas drilling rig.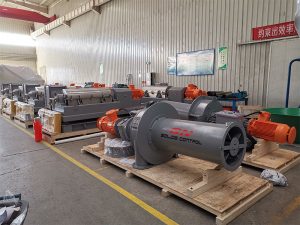 Continue reading "Solids control equipments shipped to Russia"