Recently in GN's headquarter in China, there sets of brand new mud recycling system for bored piling were just finished and ready for shipping to customers in Southeast Asia market. The mud recycling system could be composed of different solid control equipment and configuration according to customer's different requirement and needs. For example, the mud recycling system could be composed of shale shaker, mud gas separator, desaner, desilter, mud cleaner, vacuum degasser, decanter centrifuge, agitator, centrifugal pump, screw pump and various kinds of tanks. The mud recycling system could also be used for different applications, such as the oil and gas drilling, bored piling, trenchless, diamond drilling and so on.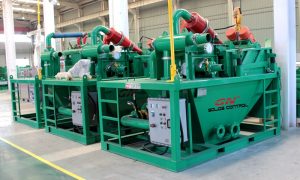 The mud recycling system for the bored piling is composed of the mud cleaner with double deck shaker screens and hydrocyclones, the centrifugal pump, agitator and tank. It works like this, when the mud comes into the system, the mud will first goes to the lower deck of the shaker screen for coarse separation. The screens used on this deck will be usually as API 40, 60 or 80. Then the mud will be dropped to one compartment of the tank and the large solids will be discharged out of the system. Then the mud will be sucked by the centrifugal pump to the hydrocyclones for further separation. The separation size of the solids could be up to 40 micro meters. Then the finer mud will be dropped to the tank and the coarse mud will be discharged by the hydrocyclones to the upper deck for further separation. Then the mud will be recycled and recovered into the system again for reuse. This is a very efficient and cost effective system and is popular with many customers.
Above is the brief introduction about the system. If you are interested in the system, welcome to visit our website www.gnsolidsamerica.com and get more information, please send your inquiries to USA@gnsolidscontrol.com .