The water based mud drilling cuttings treatment solution including cuttings solidification unit and waster based mud drilling cuttings treatment system.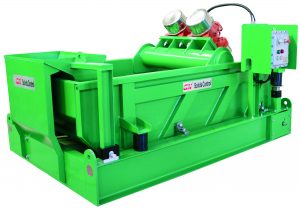 High G drying shaker is core equipment for primary solids control and drying the water based cuttings, to meet the requirement of final disposal and recover more base fluids. The features of high G drying shaker is that high G force adjustable up to 8 G, flexible feeding method such as weir feed, top feed and hopper feed, mechanical deck angle adjustable while working from -1 to 5 degree. The high G drying shaker can lay under the primary shale shaker directly to collect the water based drilling cuttings from primary shale shaker. Or it can lay on a separate mud tank, to collect drilling cuttings from screw conveyor or waste vacuum pump.
The working process of high G drying shaker system is as below:
The screw conveyor collect the water based drilling cuttings from primary shale shaker and transfer to high G drying shaker, which is lay on the fluids catching tank, the centrifuge feeding pump feed the fluids to waste decanter centrifuge for fine solids separation, the fluids flow to intermediate tank, the clean fluids can be transferred to solids control system storage tank or mud mixing tank by adding chemical additives. The discharged solids together with the separated cuttings from desander, desilter and decanter centrifuge will be transferred by screw conveyor to solidification unit, by adding lime and absorber and mixed in the high shear vessel. The mixed solids can be final disposal without damage to the environment.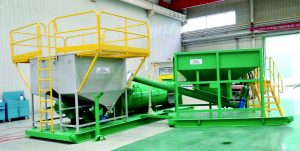 With chemical dosing unit, the dewatering centrifuge can separate the ultra fine solids up to 1 microns, the clean water can be sent to waste water treatment facility for disposal or recovery to solids control system for drilling rig reuse.