This week GN solids control shipped one unit of HDD mud recycling system and dewatering unit to Sinopec project. HDD is one of our major applications, GN equipments 4 major applications including oil & gas industry solids control system and drilling waste management system and oil sludge separation system, HDD & CBM industry mud recycling system, Piling & TBM desander unit, Industry waste water treatment.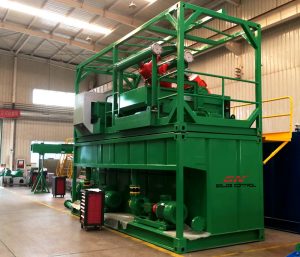 The technical configuration is as below:
1) 3 phase cleaning mud recycling system mud tank, with containerized frame for convenient transportation, the user can put the mud tank and the frame with equipments on the trailer and move to another site from one site.
2) 1 unit of GNZS703F shale shaker as the first phase cleaning equipment, equipped with 3pcs of durable composite material shaker screens with customized API mesh screen. We produce OEM composite material shaker screens from API 20 to API 325 as per client's requirement.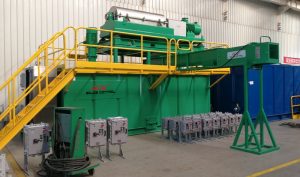 3) 1 unit of GNZJ703F-1S8N mud cleaner, with under flow shaker, desander cone and desilter cone combination unit. Equipped with 2 units of centrifugal pumps as feeding pump of desilter cone and desander cone.
When the drilling fluids temperature is over 70 degree, we will use special material hydrocyclones for longer working life.
4) Dewatering system with same dimension mud tank
5) Decanter centrifuge GNLW363C-VFD is the 4th stage cleaning to separate fine solids smaller than 15 microns. After several years working, more and more fine solids are accumulated in the tank bottom, these fine solids can not be separated by the desilter cone, then high speed decanter centrifuge is required to clean the drilling fluids, otherwise it can not be reused for drilling again.
Continue reading "HDD Mud Recycling and Dewatering Unit for Sinopec"