One batch of drilling waste treatment equipments are successfully used for international oilfield service company. The equipments list including: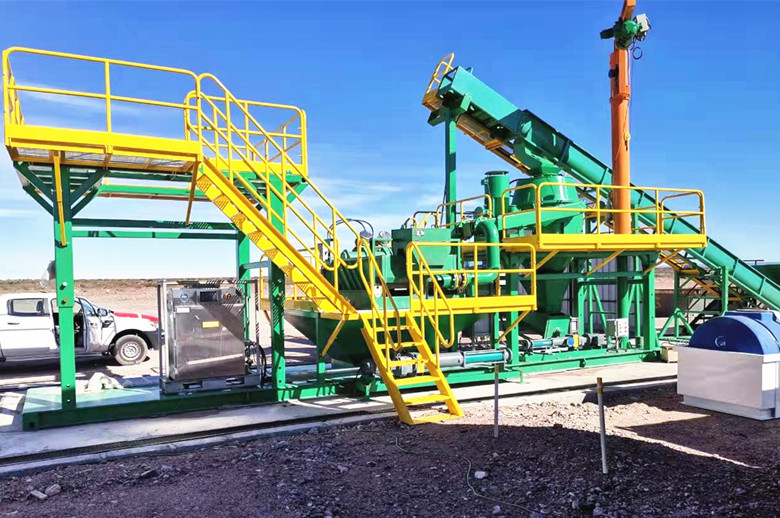 GNZS594F-SGZF High G drying shaker
GNCD930F-VFD vertical cuttings dryer
GNSC12B-24 & GNSC14B-48 screw conveyor
Support skid for vertical cuttings dryer and high G drying shaker
GNLW363C-VFD decanter centrifuge
For a standard drilling waste treatment system, normally we will use decanter centrifuge and vertical cuttings dryer, sometimes when solids content of the fine solids smaller than 0.35mm is very high, the client will use the high G drying shaker to reduce the solids content firstly before feeding to decanter centrifuge, otherwise the high solids content will be easily block the centrifuge bowl. For vertical cuttings dryer screen basket screen opening, we have 0.5mm, 0.35mm and 0.25mm for option, we suggest the user to select 0.35mm or 0.5mm screen opening, for smallest screen opening, the screen basket will be blocked very frequently and the treatment result can not meet the expected result. For the treated fluids will flow to high G drying shaker buffer box, and flow to shaker screens evenly, by using very fine mesh shaker screen, such as API 270, API 325, they can reduce the solids content before feeding it to the decanter centrifuge, which will increase the separation efficiency of the decanter centrifuge.
The vertical cuttings dryer is the ideal equipment to treat the oil based drilling cuttings, we recommend the user to treat the oil based drilling cuttings from primary shakers only, the drilling waste from desander, desilter and decanter centrifuge will be easily block the screen basket and the treatment result will be influenced. They can be collected and sent to oil sludge treatment unit, to get the solids, water and recovery oil.
If you need a solution for drilling cuttings treatment and oil sludge treatment, pls contact with GN solids control.