Recently GN solids control shipped one batch of the shale shaker, decanter centrifuges to Russia drilling rig. The client will produce the mud tank locally to save freight cost, import tax and save delivery time, and buy the major equipments from GN.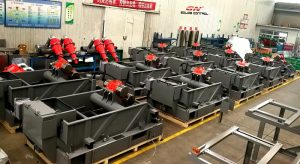 Shale shaker is the most important equipments and first phase cleaning equipment for oil drilling rig solids control equipments, the lastest model shale shaker is F version shale shaker. Compared with the previous version shale shaker, the features of F version shale shaker is as below:
1) Composite material frame shaker screen for longer working life, the screen mesh over API 60 all use 3 layers wire mesh for reliable quality.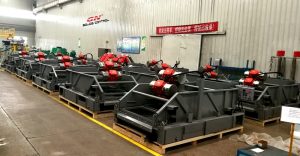 2) The screen deck bottom is made of stainless steel 304 material for better Corrosion resistant, with 3 layers costing and painting with Japan Kansai brand or US PPG brand Marine anticorrosive painting.
3) Italy Oil brand vibrator or Itavibras or US Martin brand vibrator to meet client's different explosion proof requirement。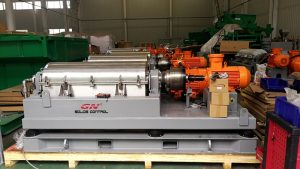 Decanter centrifuge with 3200rpm high speed to separate the low gravity solids, after long period drilling, more and more fine solids will accumulate in the drilling fluids, which can not be separated by desilter cone and low speed decanter centrifuge, then the recovered the drilling fluids can not be reused to prepare for new drilling fluids, the user need the high speed centrifuge to reduce the solids content and separate the fine solids out. Normally they will use the low speed centrifuge before the high speed centrifuge for barite recovery, or they can use a VFD decanter centrifuge to use for both barite recovery and LGS if there is not enough space to install 2 centrifuges.
If you need major shale shaker, mud cleaner, decanter centrifuge for oil drilling rig, pls contact with GN solids control.