It takes two months for GN's engineer and workers to finish the manufacturing for the new order of two sets of oil sludge treatment system. Now the two sets of oil sludge treatment systems are stalled in GN's facility in China and are ready for shipping to Middle East.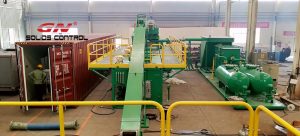 The oil sludge treatment system mainly consists of the following equipment: The shale shaker which is specially designed for oil sludge treatment for the coarse solid separation; two sets of 22 inch decanter centrifuge GNLW553C-VFD for fine solids removal from oil sludge; two sets of sludge washing tank which are with the heating and mixing system; two sets of 3 phase separation system which can separate the oil, water and solids from each other; two dosing systems in 40 feet container; vacuum feed pump and augers which will be used for feeding the slurry into the oil sludge treatment system.
The oil sludge treatment system has the following feature and advantage: Adopting the chemical and heating technology to improve the mechanical separation; the system can be mainly applied to there types of oil sludge: the sludge from oil refinery plant, the sludge from the crude oil tank and the sludge from the drilling waste. 4 stages of separation can get the customer cleaner recovered oil and reduce the oil on the sludge. The treatment system could be customized for different processing capacity and different mixing content of oil, water and sludge. The skid mounted module design will reduce the footprint and easy for installation and transportation. For service companies, this system means safer, more reliable and more cost effective.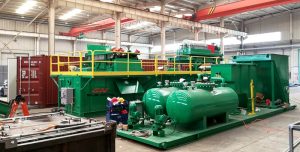 As a leading solid control equipment and waste management company, the oil sludge treatment system is one of the main business in GN's full product line. GN will strive to make more reliable, safer and more cost effective equipment to help the service company getting more and saving more money, and achieve great success. Welcome to visit www.gnsolidsamerica.com and please send your inquiries to USA@gnsolidscontrol.com .