GN Solids Control is the leading manufacturer for solid control and waste management equipment and system, now its product line covers almost everything in the solid control area, including shale shaker, desander, desilter, mud cleaner, vacuum degasser, mud gas separator, decanter centrifuge, agitator, centrifugal pump, cutting dryer, screw pump, shear pump, mud gun and so on. After years of accumulation, GN has become an international brand and promoted its products to more than 60 countries, and in recent years it also established two overseas subsidiaries, US and Russia.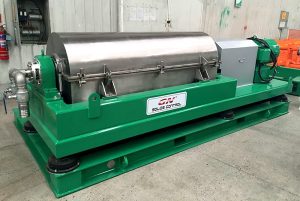 Among all the products in the line, decanter centrifuge is one of the most popular ones among GN's customers. Now GN can not only manufacture its traditional 363 centrifuge with 14 inch bowl, but it can also make larger bowl size, GNLW553, whose bowl size is 22 inch. This equipment can be applied in the processing the water based mud, in the oil based mud system, in dewatering and in recovering barite. There are also some great features for this equipment: it is VFD controlled and can offer the operators a variety of solutions for the changing field operation situations. The duplex stainless bowl is made from centrifugal casting with great performance of centrifuge balance and corrosion resistance. All the screw conveyors' surface is protected by tungsten carbide tiles which can protect the entire length of the screw conveyor. They can be working at super hot desert environment. The VFD control system is provided by SIEMENS or ABB. All the bearings applied in the centrifuge are from SFK premium bearing which can guarantee longer operation life and more reliable operation. All the motors and control panels are explosive proof and certified to work in zone 1 and zone 2 hazardous area. The 553 decanter centrifuge will become the star products for processing large volume of liquid and solid separation job. More and more customers are showing great interest in it.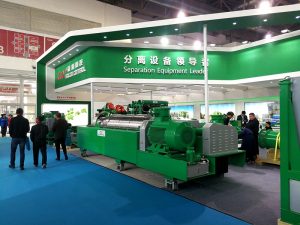 That's the brief introduction of the large bowl decanter centrifuge 553. Hopefully it will be useful to you. We will try our best to assist your business to be successful. Please log on to our website www.gnsolidsamerica.com and please send your inquiries to lucas@gnsolidscontrol.com .