TBM Pipe Jacking engineering are widely used in urban construction, normally it will face a problem of working area limit, working noise limit and environmental protection limit. GN TBM Slurry Separation Plant is designed to meet all of the requirements mentioned, the features of GN TBM slurry separation plant including compact design, high treating efficiency, better treatment result, different treating capacity, easy movement, convenient disassembly for different requirement.
Except for small desander unit of TBM slurry separation plant–GNMS-500D & GNMS-1000D, we also have below models of middle TBM slurry separation plant and large TBM slurry separation plant: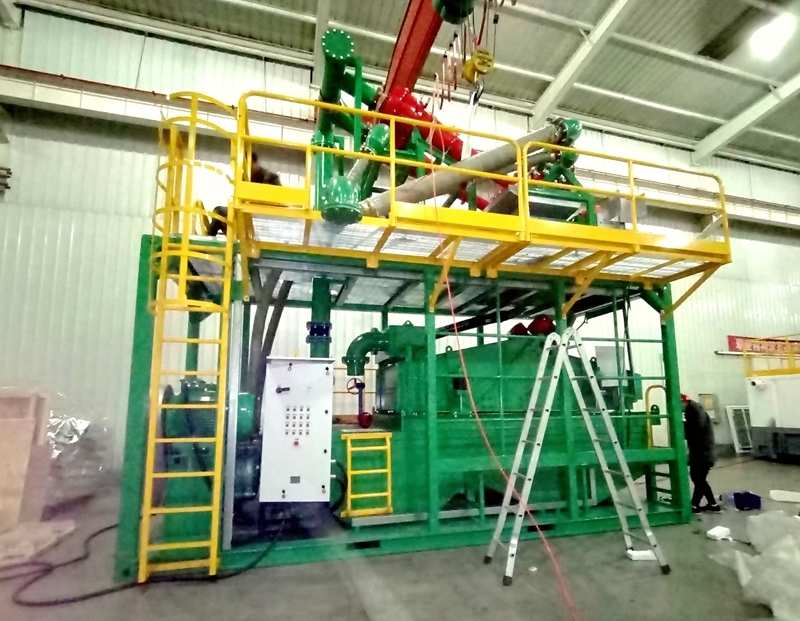 Take GNTBM-240 (240m3/h) for example, it consists of 1 unit of desander mud cleaner with double deck bottom shaker and 2 ea desander cone, 1 unit of desilter mud cleaner with double deck bottom shaker and 12ea desilter cone, 2 units of desander desilter feeding pump, mud tank with lifting frame for convenient transportation. During transportation, the top layer desilter mud cleaner will be disassembly to meet the road transportation height limit. The whole system without disassembly can be shipped by bulk cargo vessel. The complete system are controlled together, it is installed on the position where is convenient for operation. Both of the desander cleaner and desilter cleaner discharge the separated solids from one end of the TBM slurry separation plant. The total screen area is 5.33m2.
The working process is as below:
The TBM slurry is fed to desander cleaner and desilter cleaner scalping screen to separate coarse solids, the slurry dropped into the fluids catching tank, the desander feeding pump transfer the slurry to desander cone to separate sand/silt, the solids dropped on the fine shaker screen to make it drier. The fluids flow to catching tank and the desilter feeding pump transfer the fluids to desilter cone, the solids on the top fine screen to dewater the solids.