As a manufacturer of oil sludge treatment system in China, GN solids control produced oily sludge treatment system has been widely used to treat crude oil tank cleaning sludge, refinery plant waste oil sludge, drilling waste oil sludge, contaminated soil washing system.GN standard design oily sludge treatment system with treating capacity 1~2m3/h, 5m3/h, 15m3/h for your different requirement. The basic treating process generally including: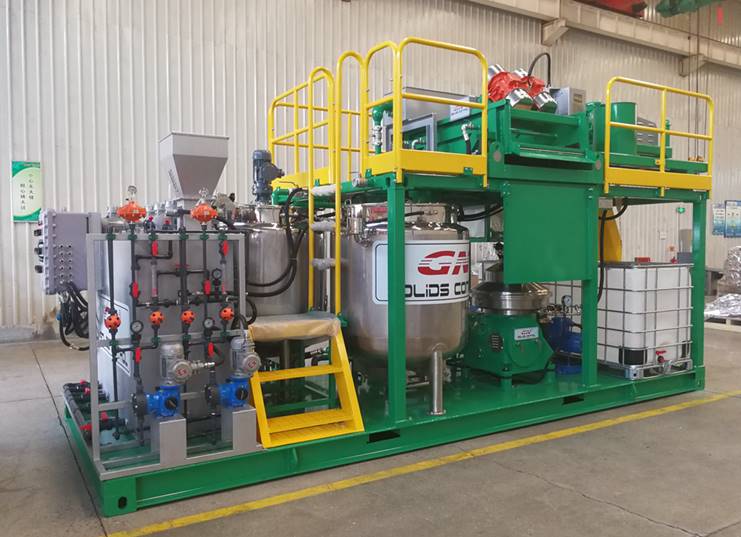 Oil sludge picking up, normally we use sludge vacuum pump to pick up the oil sludge from waste pit to pre-mixing tank, we have nominal flow rate 10m3/h, 20m3/h and 40m3/h vacuum pump for option.
Heating and pre-mixing tank, depends on the treating capacity and oily sludge conditions, we can use 1 set or 2 sets of pre-mixing tank, 1 tank as heating, chemical jetting and pre-mixing tank, the submersible slurry pump will transfer the prepared oil sludge from 1# pre-mixing tank to #2 pre-mixing tank, which is also with heating lines to improve the oil sludge separation efficiency. With 2 units of premixing tank, the user do not need to wait until the chemical is properly mixed with oil sludge.
Coarse screening and heating tank, the prepared oil sludge, the double deck shale shaker will separate the coarse solids from the oil sludge
Chemical dosing and dewatering , the chemical dosing unit is installed inside 20ft container for convenient operation and maintenance. The oil sludge with fine solids will be mixed with proper chemicals will be sent to decanter centrifuge for solids liquid separation.
Solids liquid separation and heating tank, the decanter centrifuge can separate the solids from liquid with the chemical mixed oil sludge.
3 phase separation, oil ,water and little solids separation, the 3 phase disc stack separator will separate the oil and water and few solids, the oil can be recovered and water can be used in the circulation system.