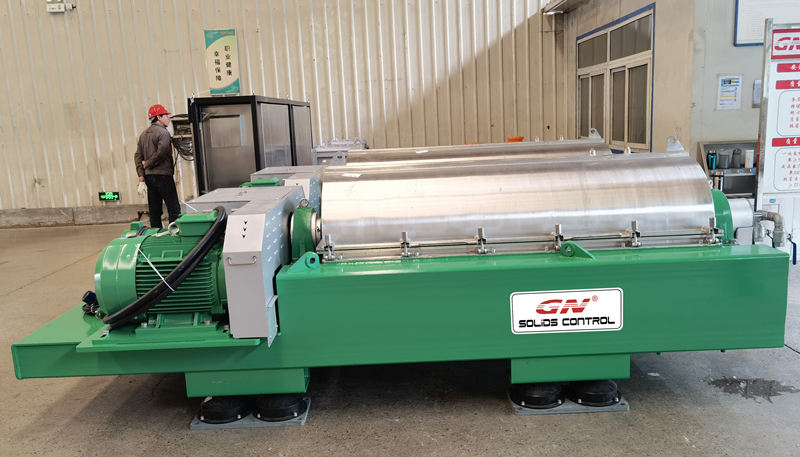 As a manufacturer of industry waste water treatment centrifuge in China, GN solids control can produce different models of waste water treatment decanter centrifuge, including GNLW224ET-VFD with 9 inch bowl dia , GNLW364ET-VFD with 14 inch bowl dia, GNLW454ET-VFD with 18 inch bowl dia , GNLW554ET-VFD with 22 inch bowl dia, GNLW654ET-VFD with 26 inch bowl dia , GNLW764ET-VFD with 30 inch bowl dia. VFD drive decanter centrifuge is ideal for waste water treatment by adding proper chemicals. The main components including bowl assembly, gearbox, main motor, back drive motor, skid, cushion pad. The working principal is as below:
The bowl and screw rotate to the same direction with a certain differential speed. The waste water is feed into the screw shaft continuously , under the working of centrifugal force, heavy phase solids is tossed to the bowl wall as sediment layer, which will be pushed to the cone section of the bowl and discharged from the slag outlet. The light liquid phase forms an inner liquid ring, the liquids will flow out from the liquid output at the big end of the bowl. The bowl straight section is the clarification area, the bowl cone section is the drying area.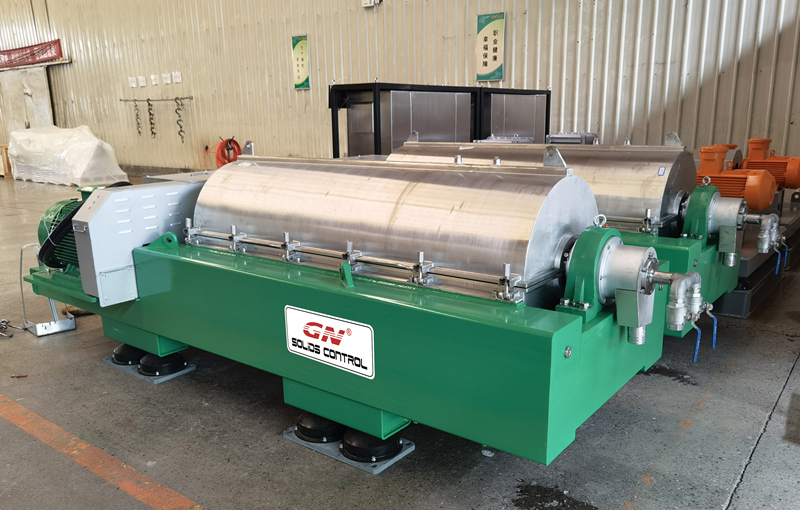 Except for the T series dewatering decanter centrifuge, GN also produce D series drilling fluids and drilling waste treatment decanter centrifuge, the T series dewatering centrifuge with 8.5 beach angle degree, such design allows the centrifuge bowl with longer cone section, the drying and dewatering area is longer, so the discharged solids cake is drier. Accordingly, the liquids discharge capacity is reduced. With chemical dosing unit by adding proper chemicals, the discharged solids is drier and discharged water is much clear.
If you need waste water decanter centrifuge and drilling fluids solids control decanter centrifuge, pls contact with GN solids control.