Recently one unit of oil sludge treatment decanter centrifuge with screw conveyor are ready for shipment to overseas client.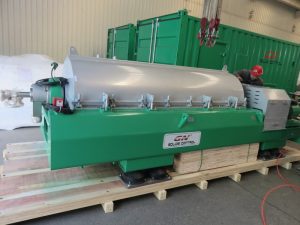 The model of oil sludge treatment decanter centrifuge is GNLW554ET-VFD, the VFD decanter centrifuge technical specification is as below:
Bowl diameter is 22 inch, the bowl length is 91 inch, the max speed is 3150rpm, the max G force is 3051G, the typical speed is 2800rpm, the typical speed is 2412G, the max treating capacity for water is up to 600gpm, and the typical capacity is 475gpm, when used for oil sludge treatment, the capacity with chemical additives is 88 gpm, with main motor 90KW and back drive motor 45KW. The treating capacity will be different based on different materials. Not only for 22 inch bowl centrifuge, GN also produce 9 inch bowl, 14 inch bowl, 18 inch bowl, 30 inch bowl decanter centrifuge for different applications, for 22 inch bowl diameter, we also have GNLW553-VFD centrifuge for oil sludge treatment. Their bowl length and cone angle is different which is designed as per treatment target. Necessary chemicals should be added to improve the separation efficiency of oil, water and solids.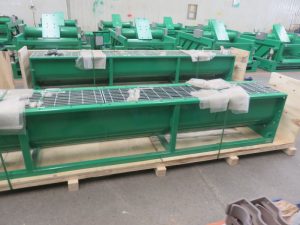 The screw conveyor is used to transfer the discharged solids from centrifuge discharge trough to waste collection box, also it can be used to transfer drilling cuttings and other type fluids. The screw flights are made of wear resistant and thicker manganese steel, also the sprayed wear resistant coating can be optional for longer working life. The reinforce frame provide high strength to the complete screw conveyor for better installation. NSK OR FAG brand bearing provide longer service life, and the bearing seat is made of aluminum casting for steady working.
If you need oil sludge treatment decanter centrifuge and complete oil sludge treatment system, pls contact with GN solids control.