Recently one unit of GN stack vibrating screen are used for Iron core separation and treatment.
GN stack vibrating screen is suitable for wet screening, classification and dehydration treatment of fine grained materials in mineral processing, coal preparation.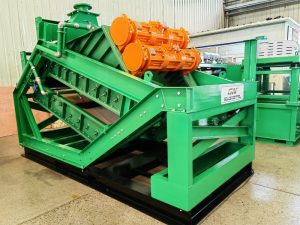 This unit with 2 layers screening, 2 vibration motor (normally from US Martin or Italy Oil brand ) drived the vibrating screen as linear motion. The features of the stack vibrating screen is high screening screen, energy saving, low energy consumption, large processing capacity, simple structure for simple operation, stable and reliable operation, small footprint, low maintenance cost. It installed polyurethane material screen, which is abrasion resistance and longer working life,and it is not easily blocked due to the good elasticity. The shaker deck surface treatment by sandblasting process, heavy anti corrosion paint for good anti corrosion performance.
The main structures of stack vibration screen including vibration motor, polyurethane screen, support frame, rack assembly, receiving chute, screen box, feed box, water spray system.
The total screen deck layer is 2, and total screening area is 4.2m2, total power is 2 x 1.84KW, vibration frequency is 25HZ, screen inclination angle is 17.5 degree, the mesh size opening is 0.045mm to 2mm, each screen dimension is 700x1250mm, each shaker with 6pcs screens. The dry ore discharge capacity is 5 ~12m3/h. Except for 2 layers screen deck, we can also produce 3 layers screen deck, 4 layers screen deck, 5 layers screen deck.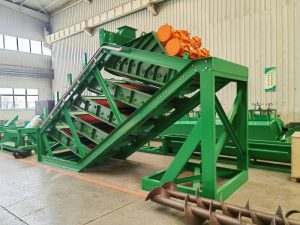 Except for stack vibrating screen, GN separation also provide high frequency vibrating screen, dewatering vibrating screen, classification vibrating screen, large linear vibrating screen, large Banana vibrating screen, large flip flow vibrating screen. The polyurethane screens are also produced by GN solids control, for better delivery time and adaptability. If you need a solution for vibrating screen, pls contact with GN separation for more information.