Recently one batch of Kuwait safety standard screw conveyors are ready for shipment to Kuwait drilling company. The unique features of the screw conveyor are as below: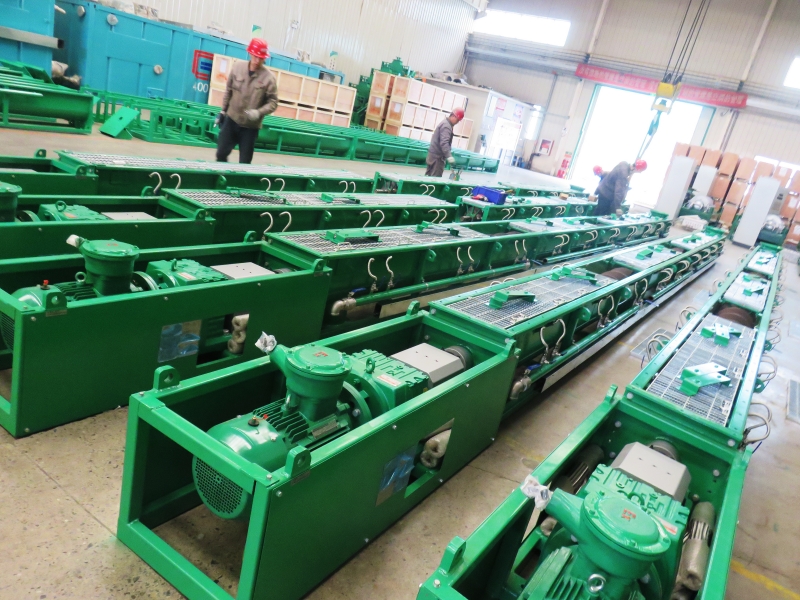 Required steel grating cover plate for safety.
Required HSE safety signs.
Required full length Safety Grab Wires along the auger for emergency stop;
Required water spray system to prevent the screw conveyor from blocking.
Required design for preventing collapse on the steel grating cover plate

The screw conveyor is a continuous conveying equipment to transfer drilling fluids and drilling cuttings, it can be installed horizontally and inclined, to collect drilling cuttings from primary shale shaker and transfer to high G drying shaker or vertical cuttings dryer, it will also transfer the discharged solids from decanter centrifuge and vertical cuttings dryer.
The screw conveyor can be made into different length, each section with standard 12ft length, total length as 2 sections 24 ft, 3 sections 36ft, 4 sections 48ft. the rotating screw diameter with 10 inch, 12 inch, 14 inch, 16 inch, 18 inch. The sections are connected by hanging bearing and shaft assembly.
The screw flights are spray with wear resistant coating to prolong its service life. The reinforced frame outside the screw conveyor provides high strength to the complete conveyor, and the bearing is world famous brand NSK or FAG for longer working life. The shell cover plate is installed with rubber sealing gasket, which can prevent dust leakage during operation.
We can provide fixed speed screw conveyor or variable speed screw conveyor, we can also provide CNEX, ATEX or IEC EX explosion proof standard.
Except for screw conveyor, GN also provide sludge vacuum pump for drilling waste and other slurry transfer, if you need a drilling cuttings transfer system solution, pls contact with GN solids control.