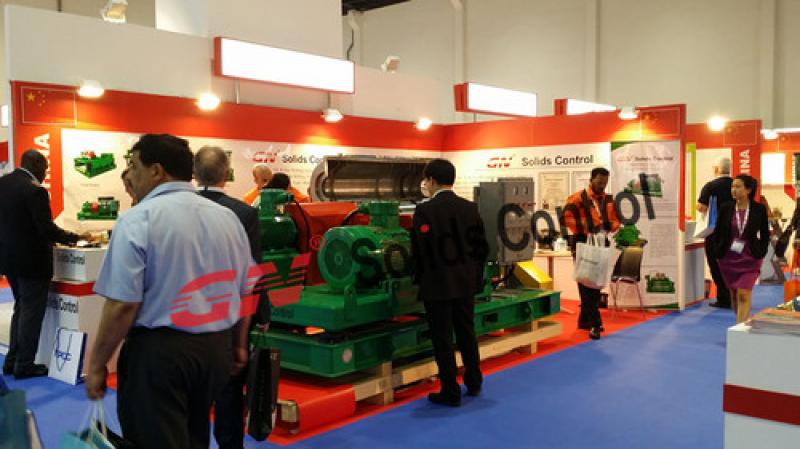 Last weekend, the world famous yearly event ADIPEC was closed with big success in Abu Dhabi. GN Solids Control attended this event and showed its Decanter Centrifuge  in the show, lots of old customers have visited GN booth and GN got to known by new friends there.
Abu Dhabi is no doubt the oil city well known world widely, which is the capital of UAE. Among the 7 cities which combine the UAE, Abu Dhabi has the largest Oil Reservation, like 96% of the whole. That's why the ADIPEC is held there. Suppliers and visitors from all over the world gathered there to get the newest information and equipments there.
In the show, there are Oil & Gas giants, oil field service suppliers and equipment/ material  manufacturers. GN Solids Control is one of the TOP solids control & waste management system producers.
This time, GN has brought a decanter centrifuge to the show, model GNLW363-BG. Below are some features of this model decanter centrifuge:
This is a 14 inch dia bowl decanter centrifuge, normal capacity 30 cubic meter per hour, which is the most popular size for solids control and waste management.
This is a high speeded decanter centrifuge, with fixed speed at 3200RPM, idea speed for waste management. In fact, just when the equipment arrived Abu Dhabi, even before the exhibition started, the centrifuge was purchased by a waste management company.
If the end user need more applications to be achieved, he could order extra pulley and belt, 2500RPM and 1800 RPM are common solutions.
International standard material for any detail, like SKF bearings, tungsten carbide tiles for impeller protections, tungsten carbide material for solids discharge ports for a longer service life.
Considerate designs like bowl protecting band during transportation, easily adjustable liquid level port, and position of motors leaving enough space for operator.
Positive pressurized VFD control panel available for this model, easier to change the speed by a PLC smart panel.
In the show, although it is a fixed speeded decanter standing on a corner, it attracted enough eyeballs. Hope ADIPEC could be better and better in future, and GN has a brighter future too.