Comparing with fixed speeded Decanter centrifuge, clearly VFD controlled decanter centrifuge have its own advantages like easily changeable rotating speeds per site condition and mud condition. But also, in a comparably stable condition jobsite, when a certain speed is decided, a fixed speeded GNLW363BG Decanter Centrifuge also has its own benefits。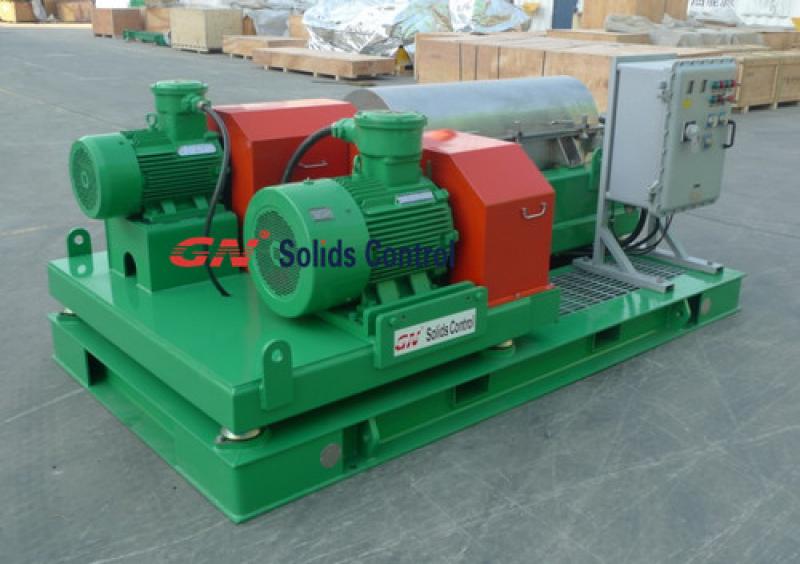 Common advantages for GNLW363BG (Fixed Speed) and GNLW363BG-VFD Centrifuges:
High speed centrifuges, GNLW363BG-VFD has a speed range from 0 to 3200 RPM, while for fixed speeded GNLW363BG Centrifuge, determined speed is 3200RPM.
Best materials like SS2205 for rotation bowl and tungsten carbide tiles for impeller protection, also tungsten carbide solids discharge ports for both GNLW363BG Fixed speed and VFD.
Top quality bearings, SKF bearing original from Germany.
Briefly speaking, for centrifuge itself, GNLW363BG and GNLW363BG-VFD are totally the same, only differences are of electric control panels. For VFD control panel, GN Solids Control adopts positive pressurized VFD control panel, which is world widely popular.
Benefits for GNLW363BG FIXED SPEEDED
Easy to operate, because speed already decided per jobsite condition, no need for the operator to learn how to adjust the rotation speed.
Small space required by fixed speed control panel. The fixed speed control panel can be installed on centrifuge base frame, which occupies less space.
Fixed speed model saves more money than VFD model.
Fixed speed means only 1 speed for option?
Of course not. For fixed speed GNLW363BG, GN can provide customer extra pulley and belt sets for reaching other requested speeds, like the designed speed is 3200RPM, and extra speed 2500RPM and 1800RPM available.
High Fixed Speed May Cause Damage to Machine?
Of course not. In somebody's eyes, a sudden high speed will do damage to machine or motor. But GN engineers have already taken this into consideration. They use hydraulic coupling for fixed speed centrifuges to solve this problem.
May you need centrifuges for high speed or middle speed, fixed speed or VFD, 14 inch bowl or big bowl, you can consult to us, we have several options for you.