As one of the solids control and drilling waste treatment shale shaker manufacturer in China, GN solids control can produce both linear motion and elliptical motion double deck shale shaker. The technical specs is as below: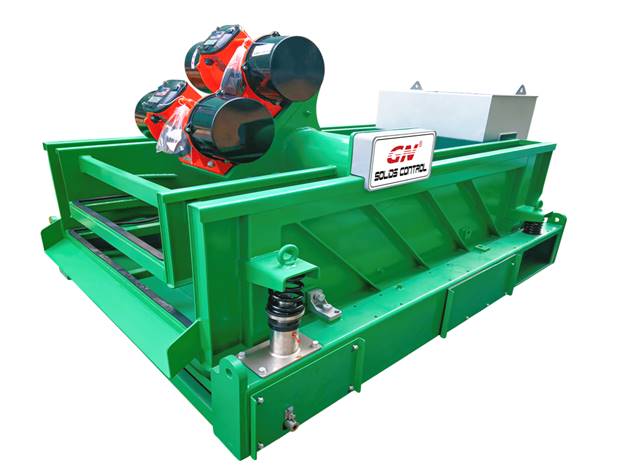 Vibration motor: 2ea of 1.94KW vibration motor, Italy Oli/ Itavibras / US Martin, the explosion proof standard could be CNEX, ATEX, IEC EX according to different requirement
Vibration G force is adjustable up to 7.1G
6pcs of composite material frame shaker screens are installed on the double deck shale shaker, top layer 3pcs, bottom layer 3pcs, top layer screen area is 2.03m2, bottom layer screen area is 2.63m2. The shaker deck angle can be adjusted from -1° to +5°.
How to select to use linear motion or elliptical motion shale shaker? Normally linear motion is applied to 1st and 2nd drilling phase, elliptical motion is applied to 3rd and 4th drilling phase, it varies according to the drilling depth. The main features of linear motion shale shaker is high G force, higher treating capacity when used same mesh shaker screen, large throw angle, it is suitable for low viscosity drilling fluids, high solids content, coarse solids size, hard drilling cuttings, higher flow rate. The features of elliptical motion shale shaker, lower G force, lower treating capacity, longer time stay on shaker screen, drilling cuttings are not easily broken, which is suitable for easy broken drilling cuttings.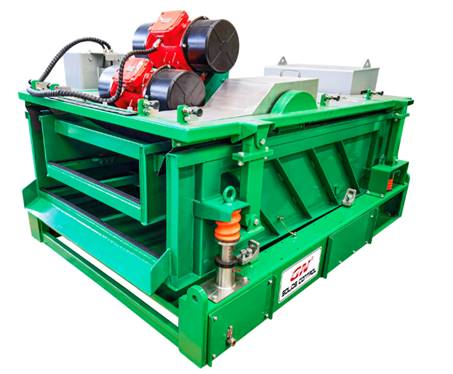 When double deck shale shaker is used to treat oil sludge, water spray system will be installed to avoid screen blocking by the high viscosity oil sludge, top sealing cover will be installed to prevent it from splashing.
Compact design will lead the shaker screen replacement difficult, to reduce the screen replacement is very important, the composite material frame shaker screen can last longer time compared with metal frame shaker screen.