This week GN solids America participate in OTC 2022 in Houston successfully.
The exhibition information is as below:
Show name: Offshore Technology Conference 2022
Show Time & Location: 2 May – 5 May, 2022. NRG Park, Houston, Texas, USA
Booth No.: NRG Center 950 (GN Solids Control/ GN Solids America)
What products did we show at OTC 2022?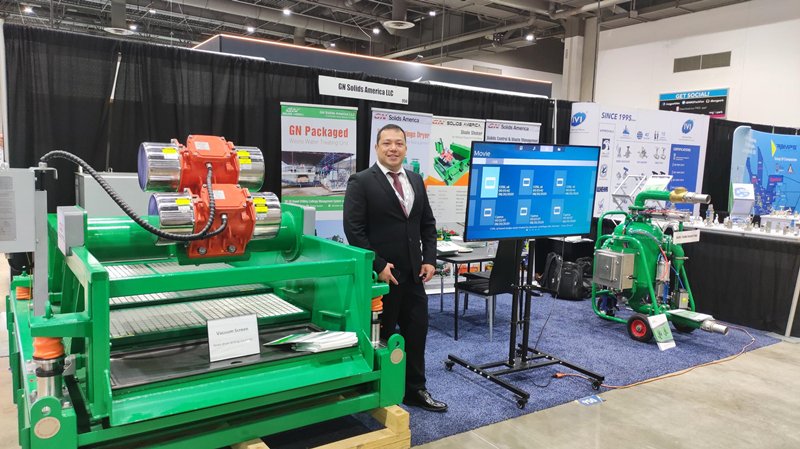 ViST Vacuum Screen
Sludge vacuum pump
Shale shaker and Shaker screen, the shale shaker is a 4 panel screen linear motion shale shaker, installed with shaker screen 585x1165mm, the total screen area is 2.73m2, the max G force is up to 7.6G, which is adjustable by adjusting the vibration motor Eccentric block. The shaker deck angle is reliable mechanical adjusting system and both sides can be adjusted simultaneously. The last panel shaker screen closed to solids discharged side is installed a ViST vacuum screen unit, the purpose is to reduce drilling waste and recycle drilling fluids, a suction hose is connected to ViST vacuum unit.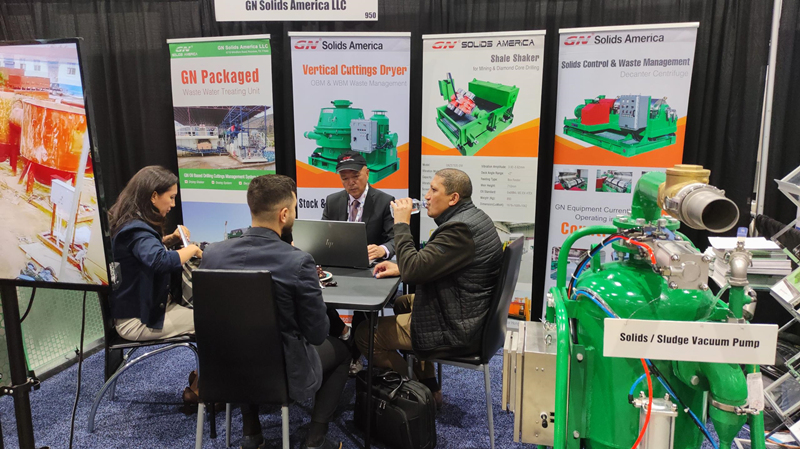 The compressed air from air compressor is required to create suction on the last screen surface, pulling additional fluids off the cuttings. It can reduce the liquid on the cuttings by 30-50%. The main components of the ViST vacuum unit consists of vacuum unit, catch pan, air supply inlet, shaker inlet, display screen, etc.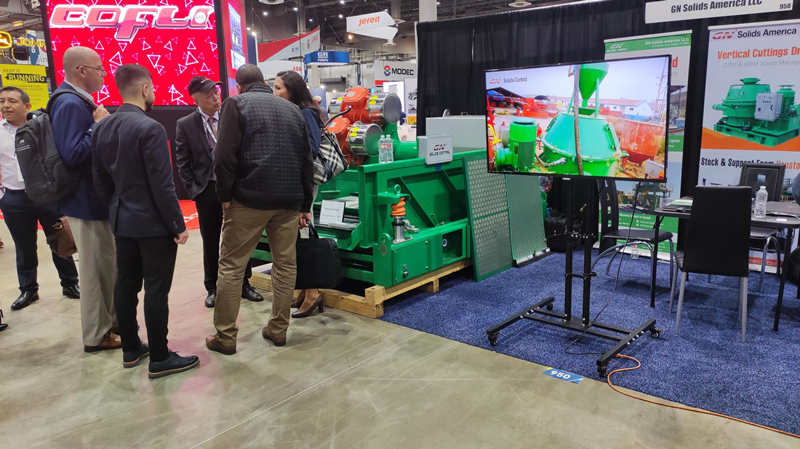 The sludge vacuum pump can be widely used to transfer drilling waste, drilling mud, hazardous waste, oil sludge, animal waste, sand, crude oil tank bottom cleaning sludge, and other industrial waste. Compare with other types electrical driven transfer pump, the vacuum pump is 100% air operated, no need electric power, it is suitable for hazardous area application, especially for refinery oil tank cleaning, the vacuum pump can be put into oil tank bottom to transfer the oil sludge out of the tank and send to oil sludge separation system .