As everyone known, a good solids control system can benefit a lot in different aspects, such as increase the drilling rate, make the drill bit longer working life, lower drilling mud cost and disposal cost for barite, chemicals, water, cuttings; reduce horsepower losses to gel and viscosity; reduce the possibility of lost circulation and blowouts; less drag pulling pipe; reduce surge and swab pressures; less differential pressure sticking; better cleaning work, etc.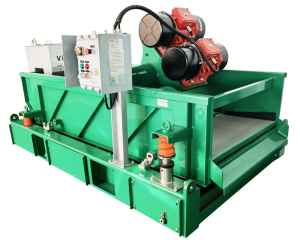 A complete solids control system consists of primary shale shake, desander, desilter ( or mud cleaner), degasser, decanter centrifuge, etc.
Shale shaker is the first phase solids removal. To use a proper mesh shaker screens to reach your required result according to the cut points. The high performance shale shaker has reduced the solids from the drilling fluids, the fluids drop into the sand trap, and pumped by centrifugal pump and feed to desander cone, desilter cone. If the shale shaker separation performance is not good, the desander cone and desilter cone will be damaged very fast.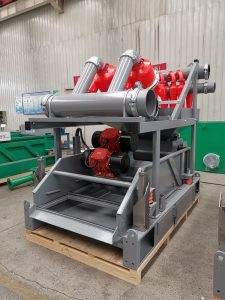 Hydrocyclones- desander & desilter & mud cleaner, are the second phase cleaning and third phase cleaning equipments. 10" cone and 12" cone is normal used as desander hydrocyclones; 4" cone is normally used as desilter hydrocyclones. A 500gpm desander use 1ea 10" cone, 1000gpm desander use 2ea 10" cone, 1500gpm desander use 3ea 10" cone. A 500gpm desilter use 8ea 4" cone, 1000gpm desilter use 12ea 4" cone, 1500gpm desilter use 16ea 4" cone. We will choose different numbers of hydrocyclones for your different treating capacity requirement.
As one of the experienced solids control equipments manufacturer in China, GN solids control produce complete line solids control equipments and mud system, we also provide design and first time commissioning service to our clients. Pls contact with GN solids control for more information.