One batch of solids control equipments and pumps are ready for delivery to Asia Drilling company, including solids vacuum pump, shale shaker, centrifugal pump, mud agitator.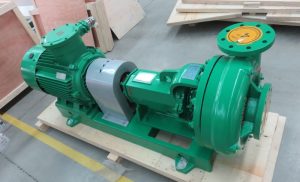 The mud agitator is consist of explosion proof motor and heavy duty helical bevel gearbox, skid, agitator shaft, impeller ( double layer or single layer, different size impeller), stabilizer, etc. We can provide 4HP, 7.5HP, 10HP,15 HP, 20HP, 25HP, 30HP mud agitator for your selection.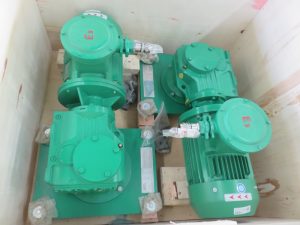 Centrifugal pump can be used as transfer pump, mixing pump, charging pump, trip pump, feeding pump of desander, desilter, mud cleaner and decanter centrifuge, and also jetting pump of vacuum pump. We can provide different size centrifugal pump for your different applications.
Features of GN centrifugal pump:
Pump impeller made from hard ductile iron alloy, Pump casing made from hard ductile iron alloy, which will increase abrasion resistance capability. The spare parts are interchangeable with popular model centrifugal pump in the world. High quality no-adjustment mechanical seal to avoid leakage. Skid is made from casting instead of welding to provide reliable operation and lead to less vibration.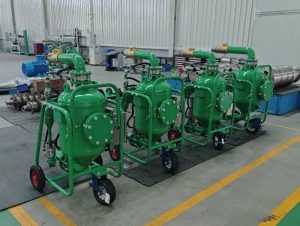 The solids vacuum pump is a mobile type 100% air operation transfer pump, no need electricity power, suitable for hazardous area application. Continuously working 7/24 automatically is available for easy operation and maintenance. It can be used to transfer the slurry with solids content up to 80%, the maximum solids size is up to 50mm or 75mm. The horizontal discharge distance is up to 500~1000m.It can be used to transfer drilling fluids, drilling waste, hazardous waste, oil sludge, tank bottom residual, animal waste, sand, fine solids, soil, etc.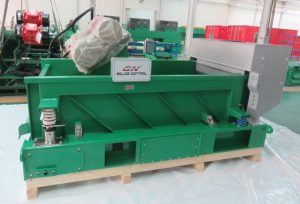 Shale shaker is one of GN major solids control equipments and best seller equipment, we can provide 2 panel shale shaker, 4 panel shale shaker, 5 panel shale shaker and 6 panel shale shaker (double deck shale shaker).