The oil and gas Indonesia 2017 will be held in Jakarta, Indonesia from September 13 to 16. This is a full stream show in the oil and gas industry covering the business from Exploration, Production and Refining. This year will the 11th year for this show and it becomes very famous in the local Asia Pacific market. It provides an opportunity for those who works for the oilfield business to communicate and exchange new technology and ideas.


GN Solids Control will be an exhibitor appearing in this show this year. GN's booth number is B 4623, welcome to our booth and we will show you the latest technology and products.
During this show GN will mainly demonstrate one of its core products, shale shaker screen. As the leading solid control and waste management equipment and system manufacturer, GN can manufacture the full range equipment and products in the solid control area. There are there core equipment products, shale shaker, decanter centrifuge and cutting dryer. From the beginning of this year, GN has fully upgraded its shale shaker screen from the steel frame to the composite frame. And GN has opened a new manufacturing facility focusing on making the shaker screens, the manufacturing capability is over 6000 pieces per month. The new shaker screen has many advantages over the old steel frame ones. It's much lighter, one man can easily handle the installation and moving it. It can be stored over 5 years without corrosion. The screen has much more opening area and it increases the processing capacity per piece. All the screen wire mesh suppliers are the same as the DERRICK, MI SWACO, this can guarantee the screen performance is very similar to the OEM screens. All the screens are pre-tensioned which will make the screen's different layers combining together much better and can enhance the longevity of the screen.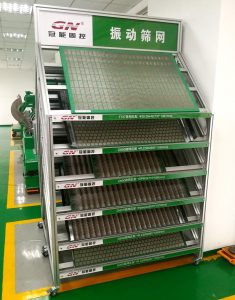 We will try our best to assist your business to be successful. Welcome to visit GN's booth and looking forward to meeting you there.