Bauma China 2016, as the largest construction industry show in Asia, will be held in Shanghai  from November 22 to 25. This show is mainly about the machines and equipment, such as the building material machines, mining machines and construction vehicles. Now this show has become a great platform for product presentation and industry party for all the exhibitors, visitors to communicate and cooperate with each other and find more business opportunities.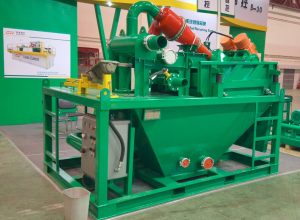 GN Solids Control as the leading manufacturing company for the solid control equipment and mud recycling system will attend the show this year and will present its latest mud recycling system. The booth number is E3. 675, welcome all the friends from domestic China or overseas to visit GN.
GN's mud recycling system could be used in many areas, such as the TBM, HDD, piling, boring, oil and gas drilling, civil construction, dredging, etc. According to different customer's requirement and the different situation for each project, the mud recycling could have different configurations and different equipment in it. Usually the mud recycling system will consists of shale shakers, mud cleaners, desanders, desilters, decanter centrifuge, centrifugal pump, different tanks, mixing hoppers, submersible pump, screw pump, etc. According to customer's different separation requirement, the mud system will include different equipment. The hydrocyclones could separate the solid size from 20-40 microns. The shale shaker will be used as the scalping purpose to separate some big solids. The decanter centrifuge could be used for even finer separation for the solid size of 2-5 microns. After the solids to be removed and the mud could be reused in the mud system again for drilling.
Welcome again to GN's booth in Bauma China 2016. We believe you have got a different feeling for the mud recycling system used in the civil construction. If you have some further interest, welcome to visit www.gnsolidsamerica.com and please send your inquiries to USA@gnsolidscontrol.com .