OSEA, which stands for Offshore South East Asia, has been an oil and gas event for more than 40 years and this year it will attract more than 1000 exhibitors from over 48 countries and over 16000 attendees to be there in Singapore. GN Solids Control, as the leading manufacturer for the solid control equipment and mud recycling system, will attend the show. Our booth number will be 1G5-01. We will look forward to seeing you there from Nov. 29 to Dec. 02, 2016.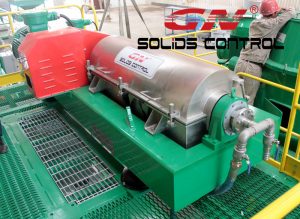 At the show, GN will show its latest D version decanter centrifuge 363-D whose bowl diameter is 360mm which equals to 14 inch. Andthe length of bowl is about 3 times longer than the diameter. This ratio has been specially engineered by the technician to guarantee its good performance during work. During the past 10 years, GN is always striving to improve its technology and keep the products at the cutting edge of the industry to generate the maximum value for the customer. The latest D version is made of high configuration which means the bowl material is made of duplex SS 2205, the screw conveyor material is made of SS 316 and then the surface is protected by the tungsten carbide tiles which is more endurable and reliable, and it can save customer's money both in operation and maintenance. G force is up to maximum 2062 at the speed of 3200 RPM, which makes the centrifuge unit can separate the fine solids down to 2-5 microns. It is VFD which means variable frequency drive which can operate in different working speed under different environment. And this equipment is also compliant with the DNV and ATEX and have been accepted and bought by many customers from Europe and America. It's mainly used for drilling fluid recycling system and drilling waste recovery system.
Welcome to visit our website www.gnsolidsamerica.com and get more information, please send your inquiries to USA@gnsolidscontrol.com .