Recently one batch of drilling mud solids control decanter centrifuges are ready for shipment to Africa client. Drilling mud solids control decanter centrifuge produced by GN solids control has been widely used in over 70 countries in the world, the decanter centrifuge is installed after desilter or mud cleaner, there are 2 types decanter centrifuges can be used for drilling fluids treatment, including middle speed decanter centrifuge for barite recovery and high speed decanter centrifuge for low gravity solids separation. Sometimes the client will buy variable frequency drive decanter centrifuge which can be used as both middle speed decanter centrifuge and high speed decanter centrifuge. The decanter centrifuge can be also installed on a telescopic skid which is separated from solids control system to treat the drilling fluids, the treated clean fluids will flow back to mixing tank or reserve tank to prepare for new drilling fluids.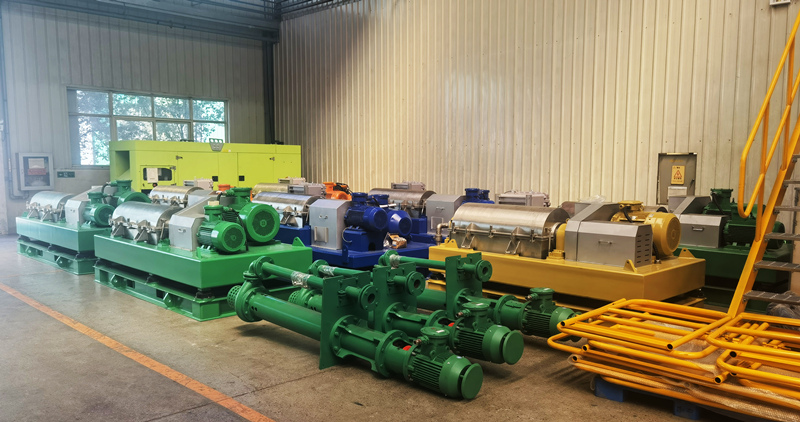 Submersible slurry pump or screw pump can be used as decanter centrifuge feeding pump, it will be decided by space of installation.
GN decanter centrifuge features are as below:
The centrifuge main bowl is made of duplex stainless steel 2205 or 2304 by centrifugal casting which is better than SS304 or SS316L.
The solids discharge port and mud distribution port is made from tungsten carbide inserts, the anti abrasion resistance will be better, and it is interchangeable.
The screw inside the bowl is protected by interchangeable tungsten carbide tiles for longer working life and easy repair
The screw is made of stainless steel with heat treatment, the open impeller design will improve the centrifuge capacity.
The bearing are SKF brand bearing for reliable operation
The bowl and screw 3 stage balancing process, including low speed balancing, operation high speed balancing and assembly balancing, which will ensure the enough balance of centrifuge.