A new drilling cuttings transfer pump is introduced by GN solids control, which is more suitable for less space, less power consumption, high cuttings solids content, less flowrability, not only for oil & gas drilling cuttings, but also for HDD waste, mining tailings, dredging slurry, and other types slurry. The main application is to use the pump to transfer drilling cuttings to the pitless drilling cuttings treatment system.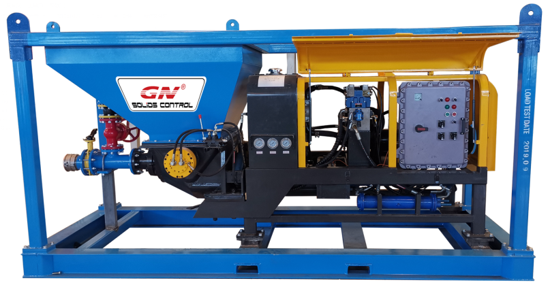 Compared with traditional drilling cuttings transfer ways, like screw conveyor and vacuum pump, the cuttings transfer pump has the advantages as below:
1) Less space requirement
2) Less power consumption
3) No need big model air compressor
4) Easy installation, easy maintenance
5) Better abrasion resistance
6) Reliable performance, higher efficiency
7) Long distance transfer up to horizontal 100 meters, and vertically 40 meters
8) Centralized lubrication system effectively prolongs the service life of wearing parts
9) The lifting pad/point can meet offshore drilling requirement, we can make it approved by CSS and DNV 2.7-1 lifting certificate as per client's requirement.
10) The electric motor and control panel can be with different explosion proof standard for option, like CNEX zone 1, ATEX zone 1 or IEC EX zone 1.
11) The bearing to be used is from world famous brand bearing for longer working life.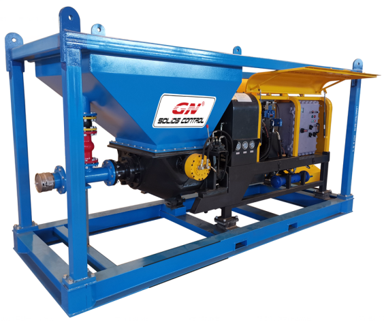 12) Suitable for high solids content cuttings, big solids size, less flowrablity
When the rod chambers at the front ends of the two oil cylinders are connected by high-pressure hoses, the rod chambers at the front ends of the pistons of the two oil cylinders are connected through an oil pipe to form a closed oil path. The rodless cavity connects the rodless cavity of the two cylinders with the main oil pump and the mailbox through the reversing valve. For more information, pls contact GN freely.