Recently one unit of triple shale shaker is ready for shipment to a drilling company in China. The 3 units of shale shakers are installed on one skid for convenient installation and transportation. Each shaker with its buffer box, and the triple shale shaker with a possum belly for mud pipeline connection.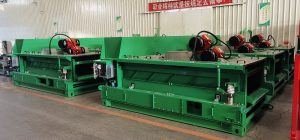 GN conventional triple shale shaker can be updated to vacuum screen technology for option if the client need to improve the separation efficiency, recover more drilling fluids and get drier drilling cuttings. The ViST pan is installed under the last screen ( at cuttings discharge end) of the shale shaker, a suction hose is connected to ViST vacuum unit, the compressed air creates suction on the last screen surface, pulling additional fluids off the cuttings, the liquid on the cuttings can be reduced 30%~ 50%. The vacuum screen technology increase the volume of recovered and reused fluids and produce drier cuttings. Once the drilling waste volume is reduced, more drilling fluids will be recovered, it will reduce the drilling cost for drilling company client.


The single shale shaker with splash proof cover to prevent drilling fluids splashing, the control panel is installed on one side of possum belly for convenient operation. The feeding drilling fluids received from wellhead will flow to 3 shale shakers evenly for better drilling fluids separation. The solids discharge way can be bottom discharge and side discharge for option. 2ea vibration motors produce high vibration G force up to 7.6G which drived the shale shaker vibration in linear motion, the patent design deck bottom sealing rubber strip provide better sealing performance, to prevent fluids leakage to mud tank. The composite material shaker screen is installed on the shale shaker for longer working life, and reduce the time and cost to replace damaged shaker screens.