Recently 2 sets of shale shakers are shipped to South America, together with 500 pcs shaker screens and other wear parts for stock. This is repeat order from the same client, they purchased 2 units of high speed decanter centrifuges before.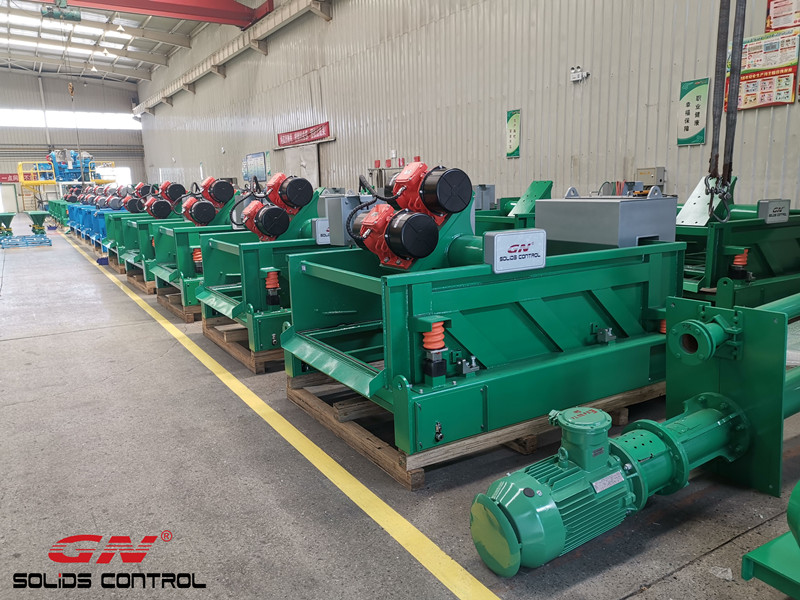 The shale shaker model is GNZS703F-SHBF, with shaker screen size is 700x1250mm, the total screen area is 2.63m2. The max G force is 7.5G and it is adjustable for different applications. The shaker deck angle is adjustable from -1º to +5º by manual adjustment. Both of the 2 sides can be adjusted synchronously. 2 ea Italy Oli vibration motors 1.72kw drived the shale shaker and the starter is explosion proof for oil drilling rig.
The composite material frame shaker screens is proved to work 20% longer time than previous steel frame shaker screens, in some rig site, the working life is up to 700 hours with drilling fluids. It can be also used for oil sludge treatment to separate the coarse solids from the oil sludge, different mesh shaker screens can be installed on the shale shaker by different applications. For all the mesh over API 60 use 3 layers stainless steel wire mesh for steady performance.
The decanter centrifuge model is GNLW363CG with max speed 3900rpm, The normal speed is 3200rpm for low gravity solids removal, the client can replace 2700 rpm speed pulley for high gravity solids separation or 2200rpm speed pulley or 1800 rpm pulley for barite recovery. The centrifuge bowl material is duplex stainless steel 2205, the other components are made of SS316L for better corrosion resistant, the collection box is made of SS304 material. The screw impeller is protected by tungsten carbide tiles which is repairable once it is damaged.
If you need shale shaker and decanter centrifuge, pls contact with GN solids control.