Recently one set of 1500HP drilling rig solids control equipments are ready for shipment for Africa client, including 3 units of drilling fluids shale shaker GNZS594F-SHBF, 1 unit of drilling fluids mud cleaner GNZJ594F-3S16N, 2 uints of solids control decanter centrifuge GNLW363D, mixing hopper, etc.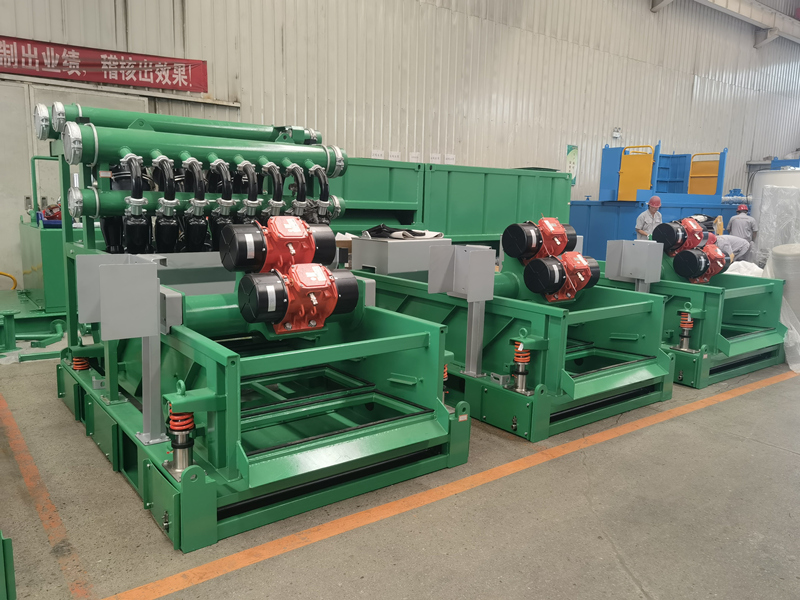 GNZS594F-SHBF drilling fluids shale shaker with 4 panel shaker screen is the ideal model shale shaker for drilling fluids treatment. The shaker screen is durable composite material frame shaker screen, the shaker screen dimension is 585x1165mm, total screen area is 2.73m2, the vibration G force is up to 7.5G, the feeding method is back feeding box, the deck angle can be adjusted from -1° to +5°. The vibration motor and starter explosion proof standard can be CNEX, ATEX, IEC EX for option. The updated version shale shaker model is GNZS594J-SHBJ, which utilized updated version sealing rubber and damper spring, and shaker deck bottom use more strong square pipe for longer working life.
The mud cleaner GNZJ594F-3S16N with bottom shale shaker same with GNZS594F-SHBF shale shaker, with 3 ea of 10 inch desander cone and 16 ea of 4 inch desilter cone, the designed treating capacity is 1500gpm.
Solids Control Decanter centrifuge GNLW363D is the equipments to separate fine solids from drilling fluids. The desander cone separation cut point is 45 microns, the desilter cone separation cut point is 25 microns, the decanter centrifuge mechanical separation cut point is 2~5 microns as the 4th phase separation. It can be installed on top of mud tank with supporting leg and solids discharge trough.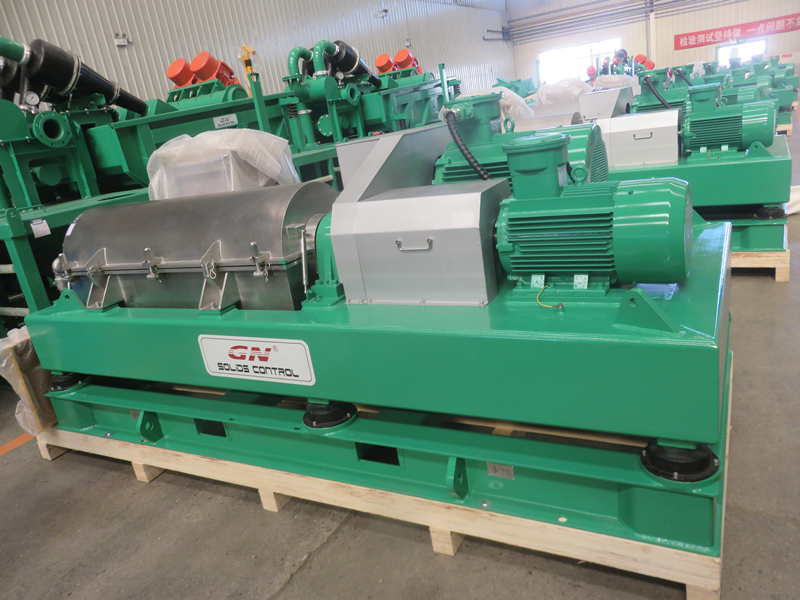 The drilling fluids treated by decanter centrifuge dropped into the mud tank, which can be used to prepare for new drilling fluids with mixing hopper and mixing pump.
If you need solids control equipments and mud tank system, pls contact with GN solids control.