This week GN shipped several units of waste water treatment decanter centrifuge to Russia, The model is GNLW363C-VFD, This is one of the most popular model decanter centrifuge among GN equipments, it can be applied for many industries including waste water treatment, drilling fluids recycling/ cleaning, dewatering unit, drilling waste management system, dredging slurry separation system, industrial waste water treatment and all the other liquid solids separation application.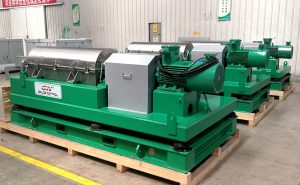 There are many size decanter centrifuge for option, 9 inch, 14 inch, 18 inch, 22 inch, 30 inch with different treating capacity, the treating capacity for different material varies a lot for the same bowl size. For the same bowl size, we have different ratio when used for different industry, for example, 9 inch bowl centrifuge have models of GNLW223 and GNLW224, GNLW224 with longer bowl length, the ratio is 4, with better performance in separation, discharge fluids is more clear, the discharged solids is drier, it is an ideal decanter for the dewatering fluids, when the client need to get pure water to send to waste water treatment plant or drain off to the river/ pond.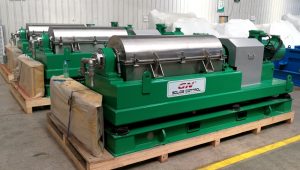 The 14 inch bowl also have GNLW363 and GNLW364, The 18 inch bowl also have GNLW452, GNLW453-VFD, GNLW454-VFD for option, the 22 inch bowl also have GNLW553-VFD, GNLW554-VFD.
The bowl material of the GNLW363C-VFD is duplex stainless steel 2304 by centrifugal casting, the screw is made by stainless steel 304, heating treatment up to 1000 degree, the screw propeller is protected by tungsten carbide tiles for wear resistance. The centrifuge will be installed on top of the mud tank or on the telescopic skid based on different applications, the feeding pump is recommend as screw pump for adjusted flow rate and stable performance.
If you need decanter centrifuge for waste water treatment, pls contact with GN solids control.