Recently one batch of VFD decanter centrifuge and vertical cuttings dryer are shipped to Nigeria for drilling waste management. The details are as below: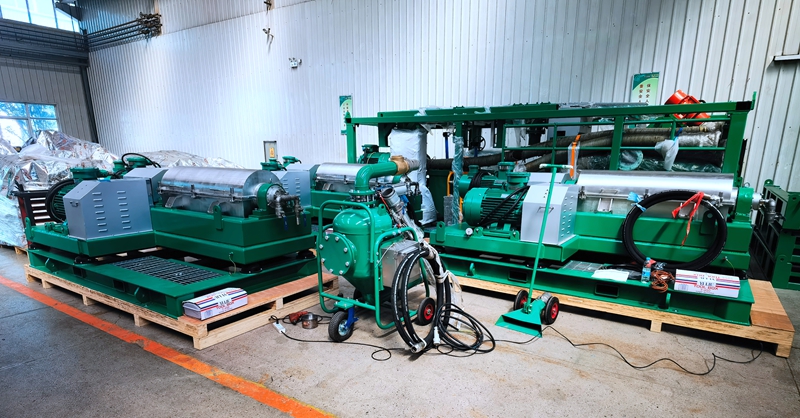 3 units of GNLW363C-VFD decanter centrifuge, this is the best seller for drilling waste management system, the designed capacity is 40m3/h, normal working capacity is about 30m3/h.
2 sets of GNCD930F vertical cuttings dryer, which is the ideal equipment to treat oil based drilling cuttings, the max speed is 900rpm, max G force is reach to 420G. from the original version GNCD930A cuttings dryer to the lastest version cuttings dryer GNCD930F, we keep improving our design of vertical cuttings dryer as per customer's feedback, to make it more user friendly, better performance and more convenient operation.
Telescopic skid for the decanter centrifuge and vertical cuttings dryer
Feeding pump ( Netzsch brand screw pump) for decanter centrifuge, flushing pump ( screw pump) for vertical cuttings dryer.
The customer is familiar with the operation and maintenance of the equipments, they can make the other accessories locally, for example, pipelines for connection, collection hopper to collect the drilling waste from excavator, they can also purchase the screw conveyor from GN solids control based on their requirement. The screw conveyor is to transfer the drilling waste to vertical cuttings dryer feeding port, and also it can be used to collect the drilling waste from solids control equipments, such as shale shaker, without skip, like a zero discharge system.
GN standard drilling waste management system is a skid mounted unit, the vertical cuttings dryer, decanter centrifuge, VFD control panel, centrifuge feeding pump, telescopic skid, pipelines and accessories, lightings , fluids collection tank are all installed on one skid for convenient transportation. If you need a oil based drilling cuttings waste management solution, pls contact with GN solids control.