Recently one unit of solids removal unit are ready for shipment for diamond core drilling to South America. The technical specification is as below: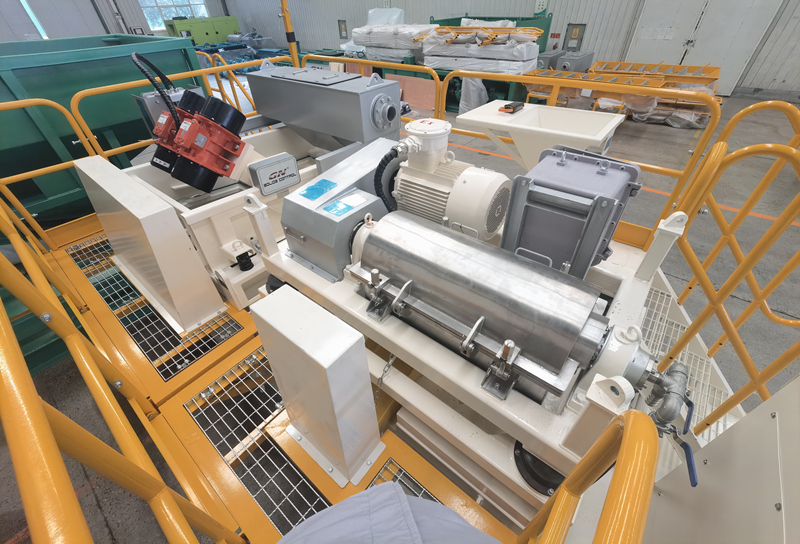 Mud tank, 1 unit, which is customized design as per client's requirement, considering road transportation, easy movement
1 unit of generator installed on the tank skid
1 unit of mini decanter centrifuge GNLW223D for fine solids removal , the bowl diameter is 9 inch, the bowl length is 26.4 inch, the max bowl speed is 4500rpm, the typical bowl speed is 3800rpm, the max G force is 2492G, the typical G force is 1777G, the main motor power is 11KW, the gearbox ratio is 35:1, the gearbox torque is 500N.M., the separation cut point is 2 microns, the solids size smaller than 2 microns remained in the water, the water can be reused for drilling.
1 unit of GNZS752 mini shale shaker for coarse solids removal, the composite material frame shaker screen installed on the shale shaker with different API No.
1 unit of mixing hopper to mix the chemicals with the treated water from decanter centrifuge
1 unit of GNSB3X2 centrifugal pump as centrifuge feeding pump and mixing pump
1 set of electric control system with necessary cables, fittings, control panel
1 unit of submersible slurry pump as feeding pump of shale shaker
The complete set solids removal unit will be put on top of trailer for easy transportation and operation. The Based on client's requirement, we can design compact system by changing equipments installation, the generator can be also put on the trailer. The purpose to recover more useful water, reduce the water consumption of diamond core drilling, reduce the produced solids waste and reduce the waste disposal cost.
If you need solids removal unit for diamond core drilling, pls contact with GN.