Recently in GN's headquarter, several units of decanter centrifuge were just finished and will be ready for shipment to Latin America for an oilfield service company there. The configuration of the decanter centrifuge is GNLW363CG premium with the bowl size of 14 inch.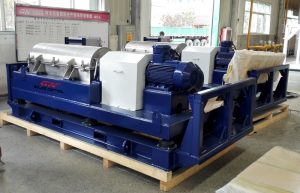 GNLW363CG is one of the most popular products among GN's product line, it was purchased and used by many domestic and international customers. Now GN can manufacture about 100 units of 363 decanter centrifuge per year. The reason why the 363 decanter centrifuge is so popular is because it has many advanced features and built with tough material. The bowl material is made from duplex stainless steel 2205 by centrifugal casting. The screw conveyor surface is protected by tough tungsten carbide which can make the decanter centrifuge run for a long time and easy for replacement. The solid discharge port is protected by special ceramic insert. The bearing is made by world famous SKF which represents longer life and more reliable during operation. The maximum bowl speed could reach 3900 RPM, and the regular bowl speed is 3200 RPM. The maximum G force could reach 3063. The 363 is high speed and good balancing during production. GN is one of the companies using three stage balancing technology which includes the middle speed dynamic balancing at the speed of 1800 RPM, high speed dynamic balancing and the same speed as the decanter centrifuge in operation. Usually when the decanter centrifuge is fully assembled, the balancing work will be done in GN's facility.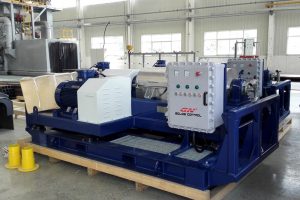 The decanter centrifuge can separate the solid size up to 5 microns, if operating with chemical dosing system, it can almost separate the solids size up to zero. The decanter can be applied in many areas, such as oil and gas drilling, diamond drilling, HDD, piling, and so on.
Welcome to visit our website www.gnsolidsamerica.com and get more information, please send your inquiries to USA@gnsolidscontrol.com .