Recently one unit of GNOST-02B Oil Sludge Treatment Package Equipment are shipped to Fujian Client, the treating capacity for oil sludge is 2m3/h.
The configuration of GNOST-02B Oil Sludge Treatment unit is as below:
Main equipments including GNZS752J shale shaker, GNLW224FT decanter centrifuge, GNSD-40 3 phase disc separator, chemical dosing unit, heating pre-mixing tank, feeding pump, etc. Mud tank skid with guardrail, walkway, stairs and frame, electric control system.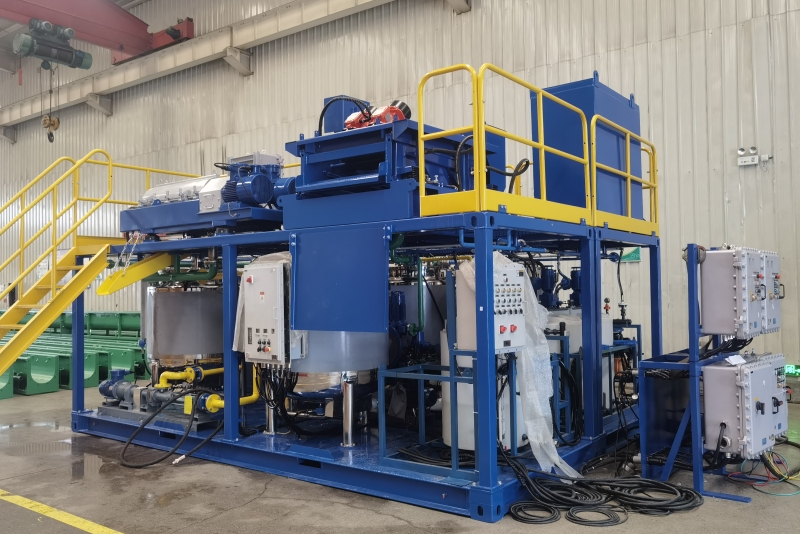 This is a compact structure oil sludge treatment unit which can be used for testing, especially for the client who wants to invest high capacity oil sludge treatment system but not sure about the treating capacity, they can use the testing unit firstly before made a decision, due to the compact design, it will influence the continuous working of the unit, we need to make changes in the design if continuous working is required.
The functions of each components:
Premixing tank and mixing tank with heatling lines, including stainless steel material tank, electric heating system, mud agitator, to collect fluids from shale shaker and feed to decanter centrifuge , or collect fluids from decanter centrifuge and feed to 3 phase disc centrifuge.
Shale shaker, to separate the coarse solids and reduce solids content, so the fluids meets the technical requirement to feed to the decanter centrifuge.
Decanter centrifuge, to separate fine solids from the fluids , the treated fluids meet the technical requirement before feeding to 3 phase disc separator
3 phase Disc centrifuge, to separate the little solids, oil and water, to get the clean oil recovery and clean water recovery, the water can be reused for circulation or sent to waste water treatment plant.
Chemical dosing system, according to user's chemical engineer's testing, they need to add proper type chemical additives to each process to achieve expected result.