Recently GN Separation & Conveying Equipment Company release new website, http://www.gnseparation.com/ , welcome to check our equipments information and industry news from our website. For the solids control equipments and drilling waste management equipments and oil sludge separation system information, pls check our website www.gnsolidscontrol.com, also you can check the working video and project news from this website.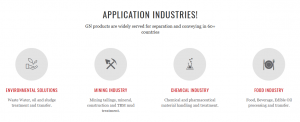 Our major separation and conveying equipments including:
1) Decanter centrifuge for waste water treatment, mining & industrial sludge/ tailings treatment, chemical treatment. The bowl size available is 9 inch bowl, 14 inch bowl, 18 inch bowl, 22 inch bowl, 30 inch bowl with different treating capacity, and each bowl size have ratio available for 3 or 4 or 4.2. By the different requirement for the discharged solids moisture and discharged water clearance, different ratio ( bowl length / bow diameter) will be choosed, and the bowl angle is customized for different material.
2) Conveying Equipment: Screw Conveyor, Bucket Elevator for bulk material handling.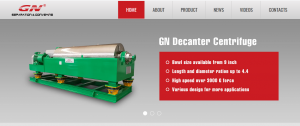 3) Transfer pump: Centrifugal pump, solids vacuum pump, screw pumps. The vacuum pump is widely used to transfer the cement, animal waste, oil sludge, drilling cuttings, drilling fluids, oil contaminated soils and other materials. It is 100% air operation pump without electricity power supply, it is ideal equipment to work in the electricity limit area. The air compressor is required to provide air supply for the vacuum pump operation. Centrifugal pump is interchangeable with world famous brand centrifugal pump installation and parts, it can be used as mixing pump, feeding pump of desander, desilter, trip pump, super charging pump, transfer pump of oil sludge. Screw pump is normally as feeding pump of decanter centrifuge and flushing pump of vertical cuttings dryer.


4) Other Separators: Oil water separator, Clarifier, screen centrifuge.
For more information, pls contact with GN solids control.