One set of complete oil sludge treatment system ready for delivery this week, this is a 2m3/h customized design oil sludge treatment system as per client's requirement. The main purpose of the client is to recover the oil from the oil sludge. It can be widely used for refinery oil tank bottom cleaning, oil sludge separation, oil based cuttings treatment, contaminated soils treatment, hazardous waste treatment, etc. applications.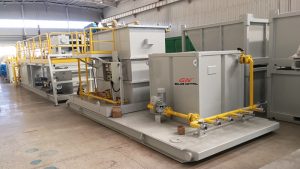 The technical configuration is as below:
1) Premixing Tank Module
The vacuum pump transfer the oil sludge from the waste pit to premixing tank, which is equipped with heating lines, mud agitator, the oil sludge will be washed, heating and agitating, mixing with chemicals for flowability.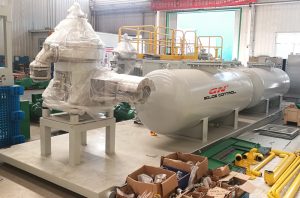 2) Classify System: The oil sludge from premixing tank will be transferred to a V bottom tank with screw conveyor on the bottom for solids sedimentation and liquid classification. The top layer will flow to disc centrifuge for oil and water separation. The bottom layer will be washed with chemical jetting, which will be shipped to solids control module.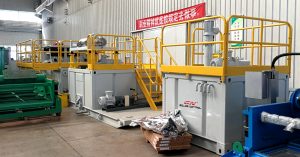 3) Solids Control module
The solids control module consist of course solids shale shaker and fine solids decanter centrifuge, the 2 panel shale shaker is the mini shale shaker among GN all the shale shaker models, it will reduce the solids content and separate the big solids bigger than 1mm, so that the decanter centrifuge will not be damaged.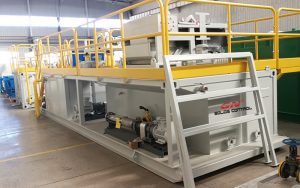 The decanter centrifuge is the mini decanter centrifuge with 9 inch bowl, the highest speed is 4500rpm, the separation cut point is 2~5 microns. With good efficiency of the centrifuge, the clean fluids will flow to disc centrifuge for water oil separation, otherwise the high solids content will influence the separation result of the disc centrifuge.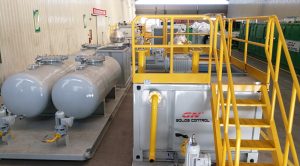 4) 3-phase separation skid module
The three phase separation skid including gravity type oil water separator with buffer tank of the oil and water.