10 units of shale shakers are shipped to India drilling company this week, they also produced one set of solids control shale shaker tank ready for shipment, including 3 units of same model shale shaker, 1 unit of mud cleaner, 1 unit of vacuum degasser, 1 unit of mud gas separator, 2 units of centrifugal pumps, and necessary mud agitators, mud gun, and 1 unit of mud tank.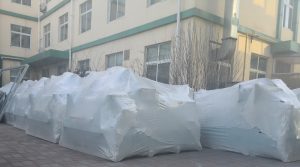 GNZS703F-HB shale shaker is one of the best sold model shale shaker, with 3 panel composite material frame shaker screens, we produce OEM shaker screens in GN own shaker screens workshop. Except for the OEM shaker screens, we also produce durable composite material shaker screens for world famous brand shale shaker, like Derrick FLC 500 series, FLC 2000 series, hyperpool, D600, etc, Brandt King Cobra / Venom, VSM300, MI-SWACO Mongoose PT,MD 2/3, FSI, etc. Compared with the steel frame shaker screens, GN made composite material shaker screens with 20% larger effective screen area, the working life is much longer, the storage period is up to 5 years.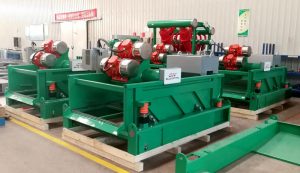 The mud cleaner is the combination of desander cone, desilter cone, underflow shale shaker, the treating capacity is different by using different quantity desander cone and desilter cone. GNZJ703F-1S8N with 500gpm capacity with 1ea desander cone and 8ea desilter cone. GNZJ703F-2S12N with 1000gpm treating capacity with 2ea desander cone and 12ea desilter cone. GNZJ703F-3S16N with 1500 gpm treating capacity. The feeding pump for mud cleaner is GN made centrifugal pump , the parts and installation dimension is 100% interchangeable with world famous brand pump. For degasser, we have horizontal vacuum degasser and vertical centrifugal degasser for option based on the space on the mud tank.
If you need shale shaker , mud cleaner, shaker screens, vacuum degasser, decanter centrifuge, pls contact with GN solids control.